THE SOLAR FLASH AND THE ARK OF THE COVENANT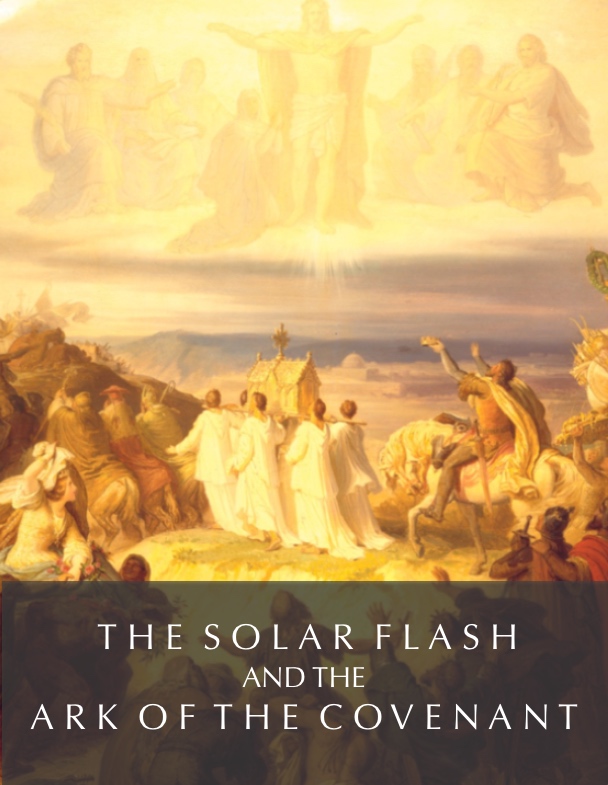 In part one of this article, Ascension Fire: The Solar Flash and the Return of Christ, I commented on the theory that a transformative, and possibly cataclysmic, flash from our Sun is predicted by ancient prophecy and anticipated by modern science. This theory caught my attention as I am a researcher of the Sun and Christian art based on these End Times prophecies. As discussed in my 2012 book, "The Judgment Day Device," this art shows a massive river of fire that resembles a solar flare bursting from the Sun-throne of Christ. Floating in the river of fire, between the Sun and the Earth, Judgment Day artists placed an enigmatic device called the Etimasia, or Throne of the Second Coming. Why is it there? What does it do? A hint. This device is the real Ark of the Covenant. In this article, I will share a brief introduction to this device, and link my research to the so-called Solar Flash theory. As we will see, recovery of this device may be all that is between us and a catastrophe of cosmic proportions…and this explains why the Ark of the Covenant is at the center of not just Christian, but Jewish and Islamic prophecy…and why folks from Tehran to Jerusalem to Washington are so interested in getting their hands on it.
First, the so-called Solar Flash. Can you imagine the Sun suddenly emitting a light a thousand times brighter than usual that periodically (cyclically) illuminates the earth and, in a flash, wipes the surface of the planet clean and/or 'beams' us instantaneously into our light bodies and a higher dimensional state of existence?
This is what we are being asked to contemplate by Dr. Robert Schoch and David Wilcock, the two primary alt-history faces of the Solar Flash/Catastrophe theory. As I discussed here, this theory runs through my own work on the Healing Sun Code going back to 2002 and my 2012 book, "The Secret of Sion", which explored the concept of Christ's Throne in Sion and our ascension.
Schoch hypothesizes that a previous civilization was wiped about by a solar flare in c. 10,000 B.C.…and that we are long overdue for a repeat Event. In September, I will be sharing the lecture podium with the Boston University geologist and look very much forward to hearing his latest insights in person. Graham Hancock, noted Ark of the Covenant chronicler, will also be presenting at this conference.
In a recent episode of his show, Wisdom Teachings, on Gaia, "An Imminent Warning From Proxima Centauri", Wilcock recapped his decades long quest to verify ancient prophecies of a new Golden Age first reported by Giorgio de Santillana and Hertha von Dechend in their widely contested book, Hamlet's Mill: An Essay Investigating the Origins of Human Knowledge and Its Transmission Through Myth.
Wilcock has read (some say misread) these myths and prophecies, primarily from Zoroastrian tradition, to claim they speak of a sudden, spontaneous mass ascension caused by a solar flare, which he rebranded the Solar Flash. This Ascension Flash, which he assured his audience would happen in 2012, is triggered by our entry into a galactic gas cloud where the energy is 'higher', he says.
It is never a good idea to pinpoint specific dates, even if there is real science behind the latter idea.
The science came in 1997 when Russian geologist, Dr. Aleskey Dmitriev, first proposed we are entering into a highly charged region of space that is triggering hybrid changes in planets and, possibly, spontaneous changes in humanity.
In 2007, social anthropologist, Dr. Benny Peiser, who studies news reports of asteroids, global warming and other potentially catastrophic events, proposed it may not be a coincidence that global warming is happening on all the planets in our solar system. Claiming that earth changes and global warming are not the result of human influence he says we must pay attention to other causes. Then again, said Peiser, it could be just a fluke, and scientists who claim this is nonsense have alternative explanations for these warming events.
Coupling Dmitriev and Peiser's work with that of Dr. Merav Opher, a colleague of Dr. Schoch at Boston University, who is saying our solar system is moving into a mysterious super hot, super magnetized galactic cloud held together by a magnetic field that has suddenly manifested, paints a picture of a solar system on the verge of entering a no humans land. Energy from this cloud is flooding in to our solar system, says Dmitriev. Not only is this causing all the planets in our neighborhood to heat up, but soon, these energies will cause our Sun to Flash and the earth will be rendered uninhabitable.
As least in the form as we presently know it.
More, in anticipation of this Event, our bodies are changing and will be more or less spontaneously changed/transmuted by the Flash, we are told. Forget about extraterrestrial intervention, this theory says Transhumanism and post humanism (the uploading of our consciousness into 'avatar' bodies living in simulated realities in super computers) is the effect of our Sun and its transmission of energies from the cosmos.
One could be persuaded to think this last statement is just more overblown hype, or a Russian Cosmist's dream, but when scientists are saying it, well, one is persuaded to pay attention. One knows they are in the deep end of this theory when they factor in prophecies, especially Christian End Time prophecy, which says when Christ returns, riding upon a cloud, we will be changed in the twinkling of an eye at the last trump into glorious bodies of light mirroring that of the resurrected Jesus.
Christians are not accustomed to connecting the Second Coming of Jesus to galactic clouds of highly charged gas that spontaneously transform us, but perhaps they should become more familiar with the concept.
Based on a reading of over 30 prophecies, and a bit of word play from Cambridge scholar, HC Baldry, pundits like Wilcock contend that we not only will be zapped into new bodies of light, but also that golden angelic light beings with similar bodies will suddenly appear to give us assistance in our transition into a new Golden Age. This will be the Ascension of humanity.
Readers are encouraged to do their part to get the facts and act accordingly.
SURVIVAL OF THE RIGHTEOUS
Some believe that the PTB know about the impending cosmic disaster and are making plans for their survival. The really smart ones are preparing for their ascension.
Perhaps they will follow the path of the good people of ancient Cappadocia, Turkey who, Dr. Schoch, maintains, built over 200 underground cities to ride out massive solar storms and their rain of lethal radiation and searing heat that could melt surface rocks.
Actually, according to myths the world over, there were many survivors of previous catastrophic events, possibly triggered by solar outbursts. After things settled down, these 'lost', usually 'righteous', people chose to stay hidden in remote areas of the earth, largely invisible to modern humanity. Occasionally, representatives from these civilizations emerge to guide our path.
Other traditions speak of ascensions of whole populations of people to other regions of space time. In what is known as the Kolob Theorem, some Mormons propose that an entire city of righteous beings ascended to God's planet, Kolob, located near the center of the Milky Way galaxy.
A common thread running through these 'survival of the righteous' stories is the idea that humanity much change. If our species is to survive on earth we must become more like the angels.
SPACE MIGRATORS
Today, a growing group believes our only answer to what is to come is to escape to new shores…fast. We must migrate into space in order to insure the survival of the human species, they say.
Ironically, these space migrators realize that in order to survive in space we must trade our flesh and blood bodies for "gooder" trans-human bodies or cyborg bodies. That means the end of the human race as we know it. My advice, is that the space migrators turn themselves into monks before taking their next leap into space. I would love to speak personally with Elon Musk about this.
Among those who believe we have to abandon ship was the late professor Stephan Hawking. He teamed up with Russian billionaire and internet entrepreneur, Yuri Milner, who put 100 million dollars on the table, to create the Breakthrough Starshot Project. Their goal is to send a fleet of nano probes riding on laser beams to Alpha Centauri, our nearest neighboring star just 4.24 light-years away, in order to see if it could be a new habitat for humanity. The system is not just the closest system, but is a group of three stars: Alpha Centauri A and B, which circle each other, and Proxima Centauri, which may orbit the other two stars.
Hot on their 'hot list' of new real estate was Promixa b, a potentially habitable Earth-sized planet orbiting Proxima Centauri. Researchers also think an Earth-like planet may orbit Alpha Centauri B. They think we could move to either planet.
Not any more.
Unfortunately, according to the observations of Dr. Meredith MacGregor, an astronomer from the Carnegie Institution for Science, on March 24, 2017, Proxima Centauri released a solar flash that decimated Proxmia b.
An artist's illustration of a flare from Proxima Centauri, modeled after the loops of glowing, hot gas seen in the largest solar flares. The planet Proxima b, seen here in an artist's impression, orbits Proxima Centauri 20 times closer than Earth orbits the sun. A flare 10 times larger than a major solar flare would blast Proxima b with 4,000 times more radiation than Earth gets from solar flares.
Credit: Roberto Molar Candanosa/Carnegie Institution for Science, NASA/SDO, NASA/JPL
In a National Radio Astronomy Observatory press release, MacGregor's team found that the flare made Proxima Centauri 1,000 times brighter over the course of just 10 seconds. Though the entire event (including a smaller preceding flare) lasted less than two minutes, it bathed little Proxima b with an estimated 4,000 times more radiation than Earth receives from the Sun's usual flares.
Faster than you can spell "S-o-l-a-r -F-l-a-s-h-I-s-B-a-l-d-e-r-d-a-s-h" with one finger on a keypad Proxima b was rendered uninhabitable.
Uh oh.
Dr. McGregor may not know it, but with this "thousands times brighter" phrase she just stepped deep into Zoroastrian prophecy of the Frashokereti, or the refreshing of humanity by a light a thousand times brighter than the sun that lifts us all to a blissful state in sun-like bodies.
She also wandered in to what the Hindu Mahabharata calls the Samvartaka Fires. They emanate from Surya, the Sun, and are characterized as a cloud filled with 'wreaths of lightning'. Strange clouds accompany the lightning. It is wonderful to behold.
In Anushashana Parva ('Book of Instructions') this description is explicit:
"The fires born of his energy resembled in effulgence the lightning that flashes amid clouds. Verily, it seemed as if a thousand suns rose there, filling every side with a dazzling splendor.
Obviously, there is close match between the Hindu and Zoroastrian accounts and the observations of Proxima Centauri suddenly turning a 1,000 times brighter.
Did an advanced civilization on Proxima b just get raptured to the 5th dimension? (Is this the secret plot of the next Avatar movie?) No one is saying so, but that's where this conversation could lead one to think.
It did me.
But does the extinguishing of life on a potential new home for humanity 4.32 light years away really mean anything? Who cares if a hunk of space rock got a big lick from its local star or if another civilization ascended?
And, seriously? Is this really how ascension works? Do we have to wait to be licked by the Sun in order to evolve?
No one can say for sure, and I certainly don't think so, but it is interesting to contemplate the possibility, especially as such an event is at the center of Christian End Time prophecy.
Before we get too carried away, we should know that the Flash on Proxima b was not really the BIG ONE some might make it out to be.  It turns out Proxima b has five of these super flares in a given year.
Still, Proxima Centauri has a message for us in our quest to move to this planet (if that is still possible) and for us remainers or ascenders.
As Futurism notes, small dwarf stars like Proxima Centauri are the most common type in our galaxy, and we've already found planets in the habitable zones around several. The flashy thing may be about to happen here and is probably occurring all over our galaxy.
Solar Flash/Catastrophe watchers argue our Sun is long overdue for an event of comparable effect to Proxima Centauri's lashing.
Think about that. What if what the Hindus and Iranians are describing is a normal occurrence throughout the Milky Way? We could be talking about millions of inhabited worlds experiencing the ascension process.
More down to earth, Proxima Centauri's most recent episode informs us that the surfaces of these planets would need to be sheltered from — or hardened against — some intense solar radiation.
Do WE need to take our own advice and shelter or harden our own planet against just such an event? (Can you say 'chem trails'?)
I mean, we would want to protect ourselves from such an event, wouldn't we?
Is it time to wake up an realize the light is about to be turned on and it will be hundreds of times brighter than anything we have ever imagined?
On the other hand, if humanity's fate is not to flash out, or off, then what can we do to protect ourselves from the looming lashing from the Sun?
Is there some kind of a device, tool or appliance that we could make that would protect us from a fate similar to Proxima b? (Schoch says past human civilizations simply went underground.)
Better yet, is there a device that could facilitate, harness or manipulate the fires of the Sun to accelerate our ability to morph into our new solar bodies and handle the new type of existence wrought by a massive solar event?
More dramatically, given that the prophecies speak of Golden Beings helping us to become Golden Beings as a result of the Flash, is it possible they have already gifted us with such a device but we just don't know it?
My answer is yes.
THE SOLAR FLASH AND THE ARK OF THE COVENANT
Since 2010, I have been researching Christian art depicting Judgment Day and the Second Coming of Christ. Here is a Russian example of this art from the 16h century: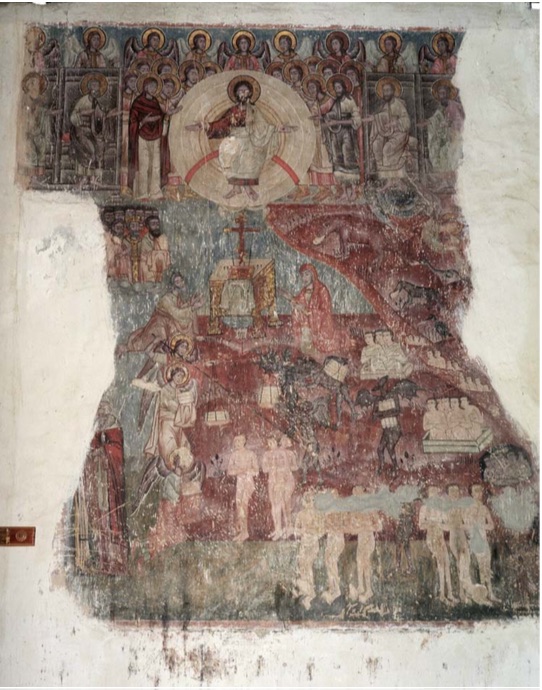 Christ rides in a cloud of light that hovers above His Etimasia Throne. A river of divine fire spews from his Sun-Throne.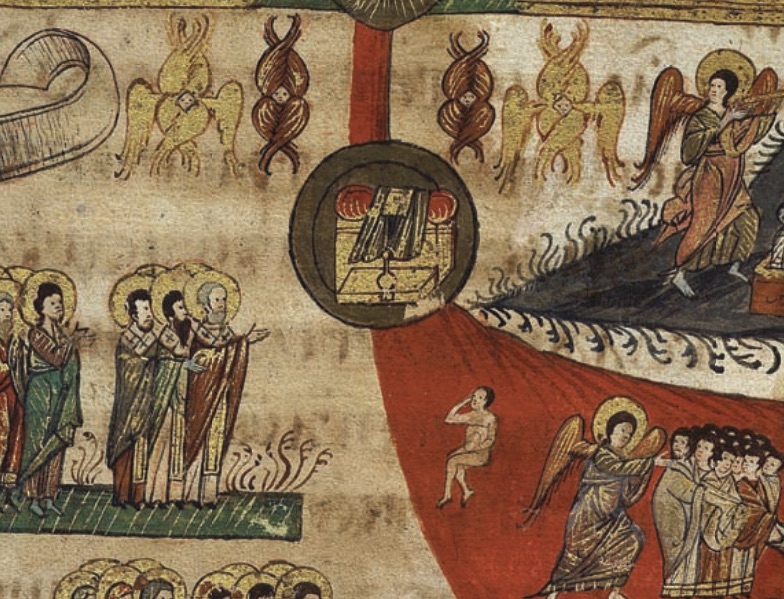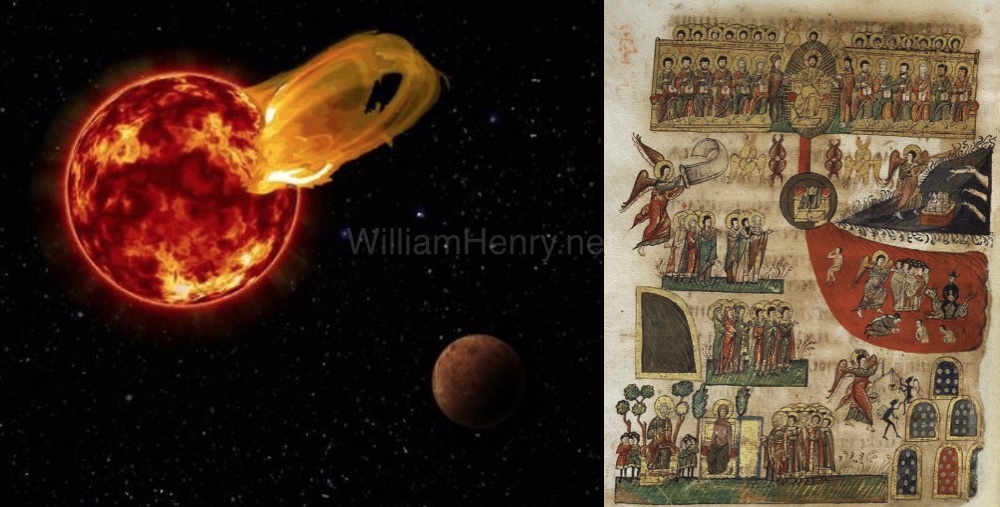 Two things stand out in these images.
First, Christ is enthroned in the Sun and the Sun-Throne (called Sion) has a river of divine fire spewing from it that resembles a solar flare like the one spewing from Proxima Centauri.
Two, there is a device or object that is shown in the river of divine fire between the Throne of Christ and Earth. It is flanked/guarded by Seraphim angels, the highest order of angels who dwell at the throne of Christ. These are the Golden Beings referenced earlier.
The device is called the Etimasia or Throne of Christ. It is sometimes called the Prepared Throne as it is essential preparation for the Second Coming.
Most don't know that Christ has a throne and that this throne symbolism was more important to the first Christians than the cross. They are most certainly unaware that this throne is a key component to the Second Coming event when Christ returns on a cloud and we are transformed into beings of light just like Him (and the Seraphim).
While Christian art portrays Christ as a human, the texts this art illuminates makes clear that Christ is the Perfect Light, a Light that perfects us (just like the Samvartaka Fires). Before this Light reappears on Earth a to do list must be checked off, including the recovery and reassembly of a device, thought of as a 'landing pad', or more accurately a transducer. The Essenes said this 'pad', which converters the higher vibrational Light into a more readily accessible form is assembled by Jesus's brother, who has the title 'the Rainmaker'.
As I discussed in my 2012 book, The Judgment Day Device, which is in my quest for the secrets of the Rainmaker, this device is actually the complete, fully assembled Ark of the Covenant. Most don't realize the Ark is a kit of tools which includes the flask of manna, the Rod of Aaron, all of which went missing when Ark disappeared from the Temple of Solomon in 586 B.C.
Here is a typical depiction of the Ark of the Covenant: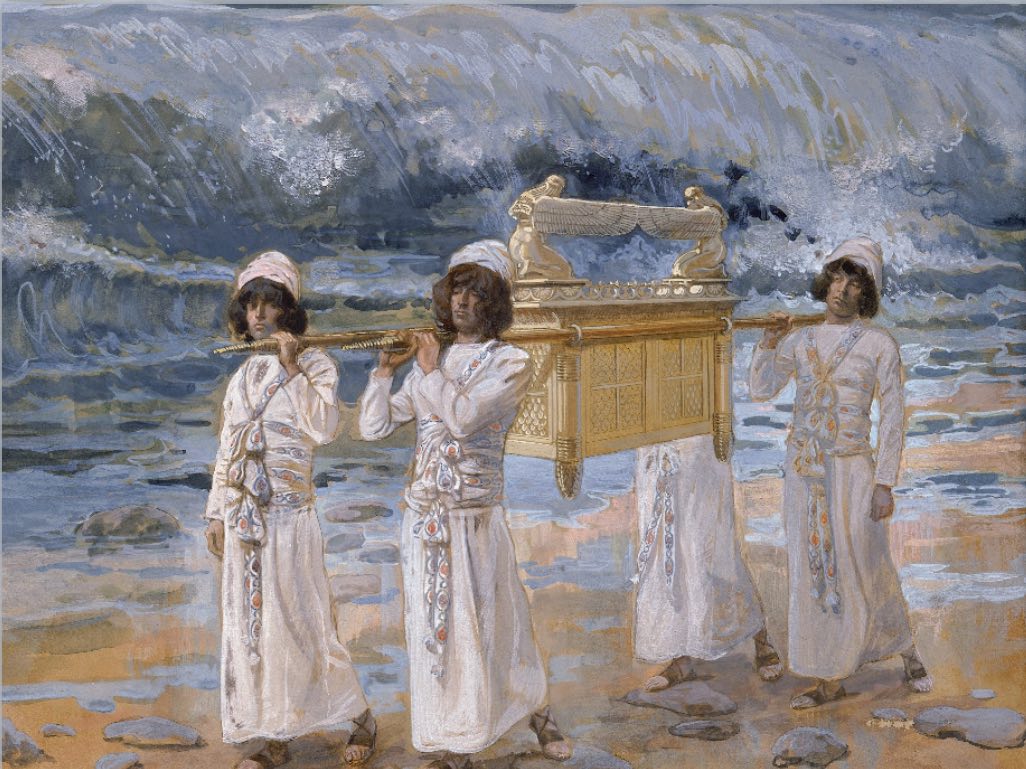 Here is what is inside the Ark of the Covenant: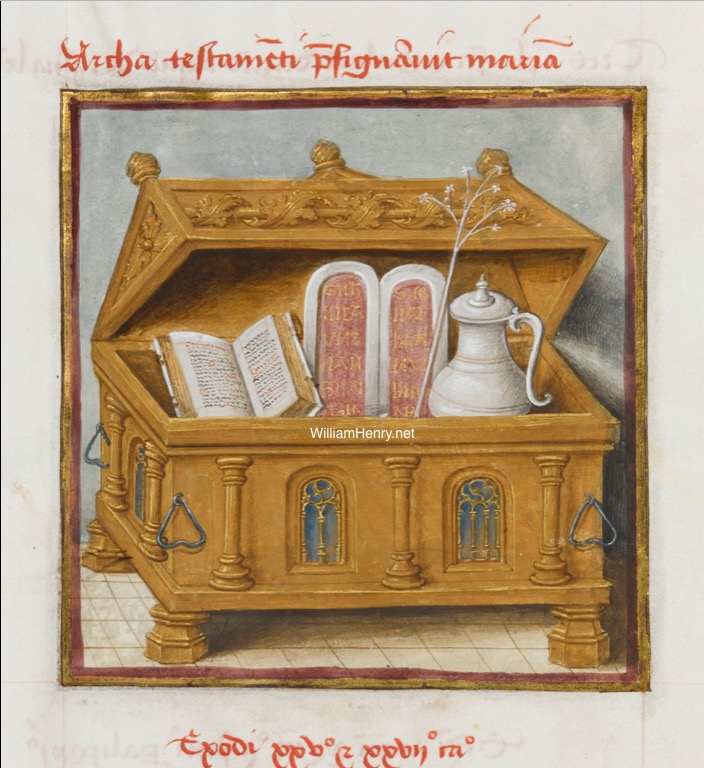 Following in the footsteps of the Rainmaker, I not only sought the missing pieces of the Ark, but I put the kit together.
The Etimasia is formed when you assemble the kit of Ark of the Covenant: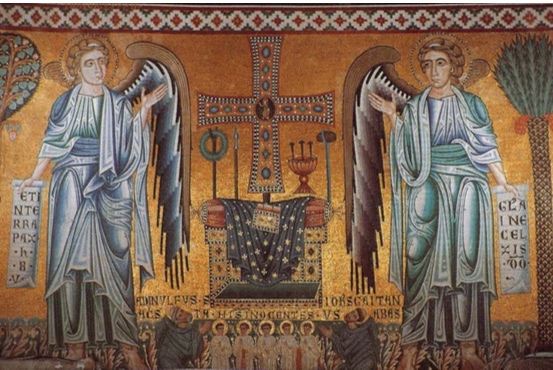 Two celestial beings called cherubim ('angels') flank the Throne-Footstool, complete with star cloak, rod, sponge, book, crown and cross of light. I believe these are the same cherubim on either side of the Gate of Eden, the two angels in the Tomb of Christ, and the two angels on either side of the Mercy Seat on the Ark of the Covenant.
IF the Ark bearers below know what they are doing they will open the golden box and assemble its pieces. When they do so they form the Throne of Christ.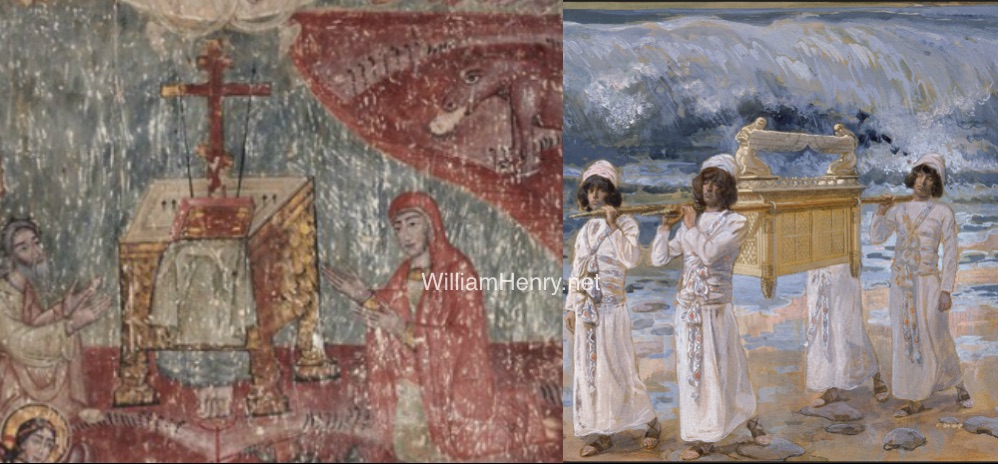 This explains why the fully assembled Ark/Etimasia is present in Christian Judgment Day art.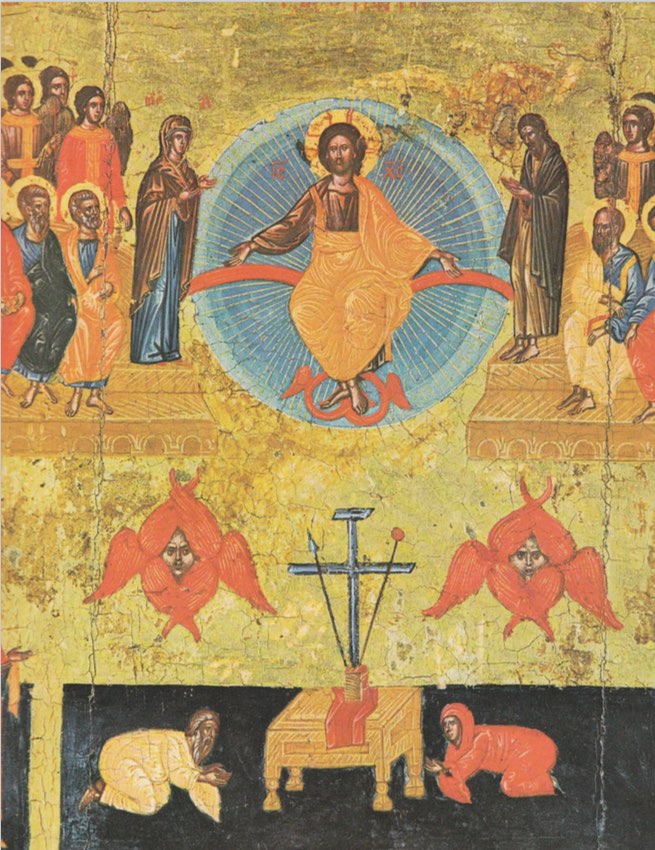 THE RAINMAKER
I puzzled over why the assembler of this device was called the Rainmaker.
Then, after researching the art of the Second Coming and the texts that tell Christ's return, I got it. The Light of the World rides upon a cloud in His return. This is the cloud seen hovering above the Etimasia in Christian art.
When a cloud appears it can block the Sun and it can bring rain. Hence, the brother of Jesus who assembles his Throne and hails the Cloud Rider, is called the Rainmaker. At least, that is how I see it.
The 'blocking the Sun' bit is especially interesting in light of our discussion.
Is it possible there is some kind of an ancient device that could block the Flash?
Or, was its purpose to mediate, transpose, or even unlock, the energy of the Sun?
If it doesn't block it, could this device harness or modulate the frequency of the Sun?
Do not, however, think of this rain as water coming from the sky. What rains is manna, the star food of the angels. It comes in the form of 'liquid light' and is called 'Chrism'. As I will discuss, the Essenes were masters of making this liquid light.
Here is the tie-in between the Flash of light from the Sun and the device of the Rainmaker. The Flash brings a rain of liquid light.
"But when it is revealed," says the Gospel of Philip, "then the perfect light will flow out on everyone. And all those who are in it will receive the chrism (the oil). Then the slaves will be freed and the captives ransomed."
When we receive the perfect light we are prepared to sit on the Throne.
This is what is meant by the term ascension…ascending to the Throne of Christ.
The cosmic rain this figure brings ushers in the new reign of Christ, pun intended.
STANDING BEFORE THE THRONE
As foretold in Revelation 20:11-15, at Judgment Day the dead, great and small, will be seen standing before Christ's Throne. The dead in Christ will receive a perfect glorified body at the first resurrection. Those saints alive will be transformed into a glorified perfect body. Those not resurrected in the first resurrection will be resurrected for judgement to include those born during the thousand year reign that follows Judgment Day. Those whose names do not appear in the book of life will be thrown in the lake of fire, says Revelation. As the book of life is shown sitting on the Etimasia, one could interpret this to mean there will be humans who do not benefit from the protection of the Etimasia.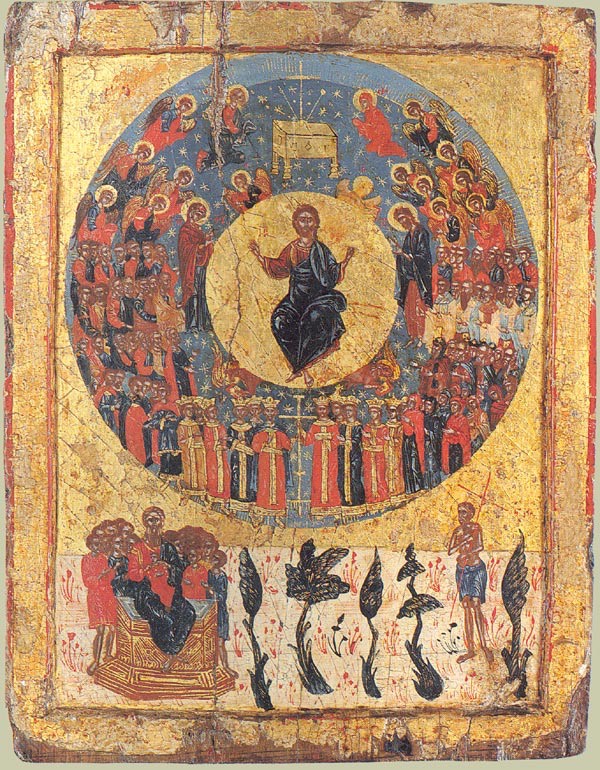 In Daniel 7:9 we learn Daniel saw a river of fire or 'fiery stream' flowing out from the Etimasia/Throne stretching to Earth.
"I watched till thrones were put in place, and the Ancient of Days was seated; His garment was white as snow, and the hair of His head was like pure wool. His throne was a fiery flame, its wheels a burning fire; a fiery stream issued and came forth from before Him. (Daniel 7:9)
This description closely matches a solar flare from the Sun.
The illustrations of this river of fire and emanating from the throne leave little doubt that there is a cosmic link or umbilical cord of divine energy joining the Earth and Sun. The Etimasia is crucial in making this link. We note that it is guarded or presented by golden Seraphim.
In my view, Daniel and Jeremiah are saying that the 'fiery stream' can be harnessed. The Etimasia is the device designed to do this job.
In part three of this article I will explore how it can do this.