HALO: CHRISTOS MASTER CLASS…livestream or in person in Sedona, AZ
December 1 @ 08:00

-

December 3 @ 17:00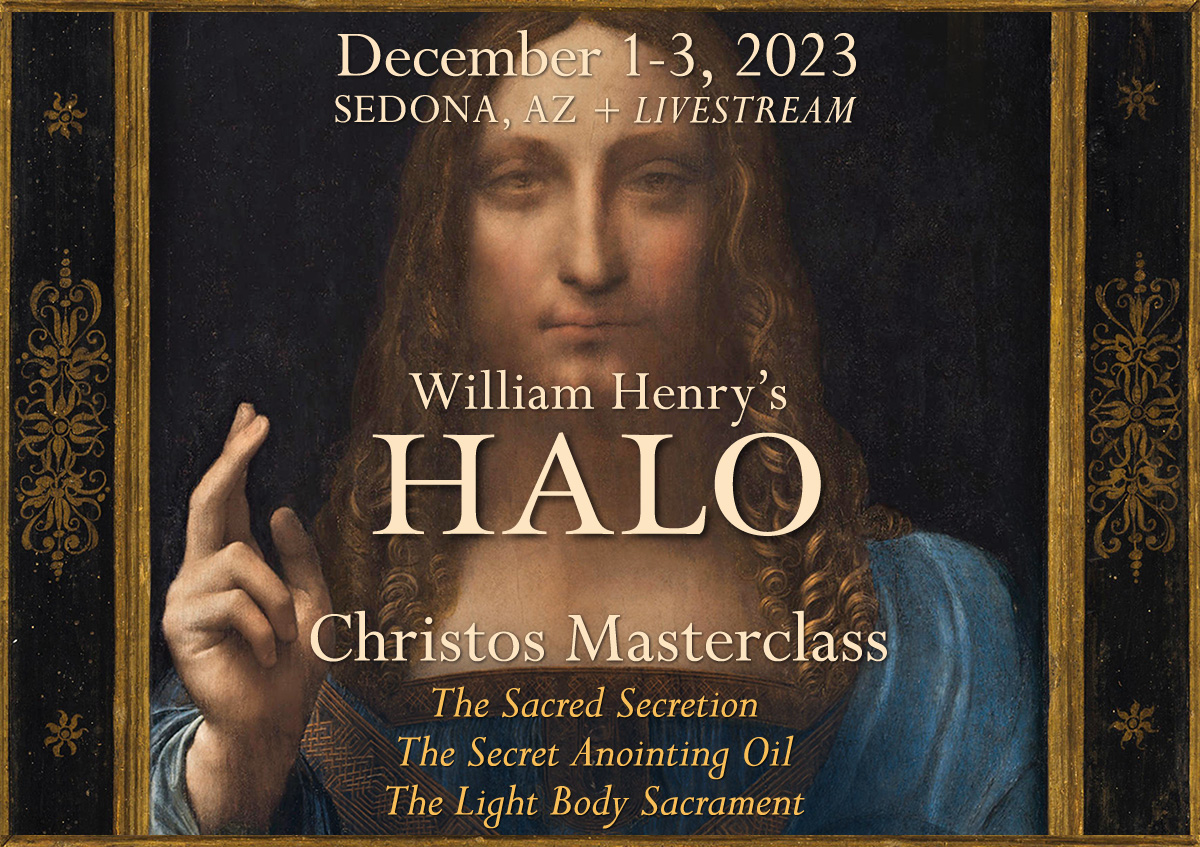 For the past several years William Henry has been presenting his breakthrough HALO series at live events in Nashville. Empowering. Pure. Breakthrough. Ascension. Gnosis. HALO: CHRISTOS MASTERCLASS represents the summit of his ascension and light body teachings with a mystic Christian flare and a wormhole twist. It is intended to be an ultimate presentation on Christos, the sacred secretion of the pineal gland and the lost sacrament of Christianity and the light body.
The HALO series has been an amazing experience. The CHRISTOS MASTERCLASS brings it all together in one compact experience. This is a stand-alone event, a summation, and a summit. A catch-up. A move on up. Attendance for any previous HALO event is not required. You can join in person or via live stream.
A revelation of the most expensive painting ever sold. Leonardo DaVinci's Salvator Mundi. Oozing mystery. Coded.
This is the final HALO offering and the one that says it all. If you are ready for the next level of your life, if you deeply know that something more is calling you, it is time to live it now.
In HALO 1.0: Awakening the Pearl William explored the light body teachings of Christ and the Marys, especially the Gnostic Hymn of the Pearl.
HALO 2.0: Quest for the Christos revealed the lost Gnostic secrets of James the Just's Oil of Joy and its connection to the pineal gland.
HALO 3.0: Perfect Light Humans and the Healing of Our World focused on accessing our Divine Self, uniting with the Divine Realm, and how to do this.
HALO 4.0: Revealed the secrets of the Myrrophores, including Mary Magdalene, and their mysterious ascension oils.
HALO 5.0: Focused on the entheogenic secretions from the pineal gland and the Book of Love of the Mighty Rainbow Angel…
Don't miss the CHRISTOS MASTERCLASS. It will bring it all home for you.
Registration details for the private live event are here.
Registration details for the livestream are here.