ARCANUM: SEASONS 1 & 2
Over the course of 13 30-minute episodes, I'll take us on an exciting cosmic soul quest into the discoveries, secrets, and science of soul ascension. The series is a continuation of "Arcanum," in which Clare and I revealed the lost secrets of sacred art. Our mission is to help you connect with your divine self through the art of ascension. We look forward to bringing you more of our joint explorations in future seasons.
The Awakened Soul is a search for our origins and a revelation of the newest scientific breakthroughs in our quest to find answers to the questions all of us have: Who are we? Where did we come from? Where are we going? How do we get there?
With the excitement of a detective story, The Awakened Soul is packed with informative historical facts, meditative imagery, metaphysical questions, philosophical insights and practical actions presented in an energetic way.
It offers a fascinating look at what is possible for all of us.
The first two episodes are Free.
After that, a very reasonably priced subscription to Gaia's site is required. Gaia has thousands of consciousness expanding videos for you to watch. It is the hub of higher consciousness in our time.
As a subscription based channel, Gaia counts on your support.  Clare and I loved writing and presenting "Arcanum" and we have lots more sacred art to explore with you. "The Awakened Soul" is a great bridge to our next adventure and we need your help.
So, please follow the links provided here to sign up 'under' me and let Gaia know you want more of "Arcanum".
Thank you in advance for your patronage and support. Watch now and live the dream!

PREVIOUS EPISODES – SEASON ONE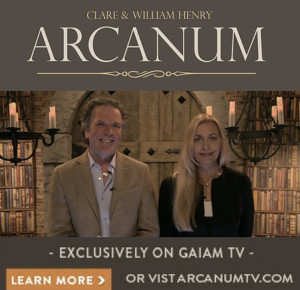 Clare and William Henry present a revolutionary TV Show exclusively on Gaiam TV; Arcanum.
While great works of art have been admired and studied for centuries, only a few individuals know the secrets that they conceal. Clare and William Henry explore beyond the composition of these works to discover their hidden mysteries. What they find is the Arcanum: esoteric secrets about human potential and modern sciences.
Ten episodes are available NOW. You can sign up for a free trial at Gaiam TV and watch all episodes.