William & Clare Henry's
SACRED EGYPT 2024
Join Us January 31-February 13, 2024 for our legendary Sacred Egypt Experience: The Ultimate Journey To Egypt
See yourself basking in the embrace of a warm and welcoming sun; standing between the paws of the Sphinx, the majestic pyramids rising on the horizon; cruising the Nile on a magnificent five star boat; taking a balloon ride over Luxor; walking in the footsteps of ancient holy ones while visiting the timeless temples and experiencing the thrills and wonder of the world's most mystical land. Has Sacred Egypt been calling you? This is the moment you have been waiting for. Let us, and our world class team, reveal Egypt's secrets and treasures in comfort, style and safety.
Our group size is limited to insure you have the utmost personal attention, as well as ease and grace, as we traverse the portals of ancient Egypt. This means no big group hassles, waiting or worries. Just freedom to fulfill your dreams!More, for your comfort and enjoyment, we offer a menu of the best hotels in Egypt (true 5 star hotels), and the finest boat on the Nile, owned by our tour partner, the world renowned luxury tour creator, Abercrombie & Kent.  
Write to William at whenrytn@earthlink.net and request a tour brochure.
More than just a tour of Egypt and its wonders, Sacred Egypt 2024 is an immersion in stunning landscapes, awe-inspiring treasures, extraordinary ancient and sacred sites and connection with like-minded people who understand your journey (both inner and outer, and both where you have come from and where you are going). The Great Pyramid and Sphinx, Saqqara, the Egyptian Museum, Karnak, Luxor, Denderah, Abydos, the Valley of the Kings and Queens and more. We see it all!
Whether you are a first-time traveler to Egypt or a seasoned visitor, we are here to help answer your call to visit Egypt and to unveil the very best of this sacred land on this 'beyond sight seeing' retreat. This is our 26th tour of Sacred Egypt, which means we have the experience to make sure that everything is 'just right' for you. Not only do we know Egypt, but just as importantly, the Egyptians know us!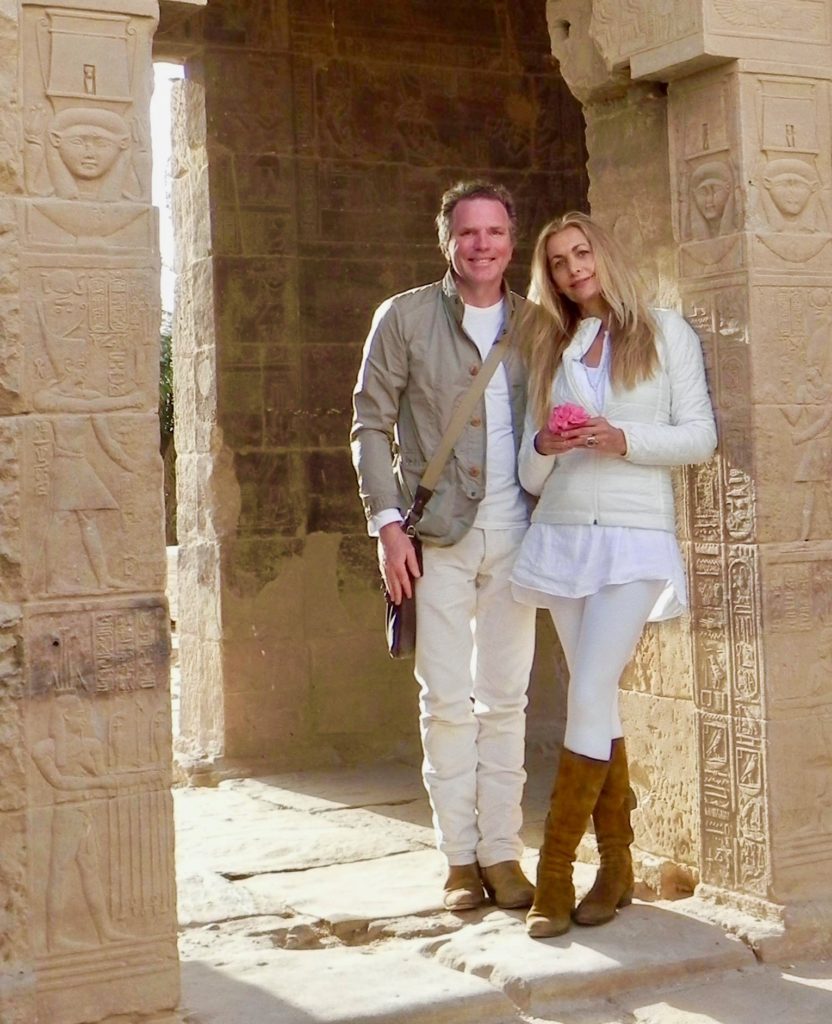 26 Egypt tours and counting! Clare and William know Egypt. Even better, the Egyptians know, and trust, them to guide you.
Our journey uncovers the secrets of the 'stones and bones', showing you 'smoking gun' evidence of advanced machining and lost technology in 'impossible' out of place artifacts like the Serapeum, the Unfinished Obelisk, the Great Pyramid and more. You will see the evidence for yourself.
But our higher aim, just as it has been on our previous 25 Egypt tours, is to inspire you with the deep light body and ascension wisdom teachings of the ancient Egyptians. This is truly where heaven and earth meet in sacred 'Stargate Egypt'.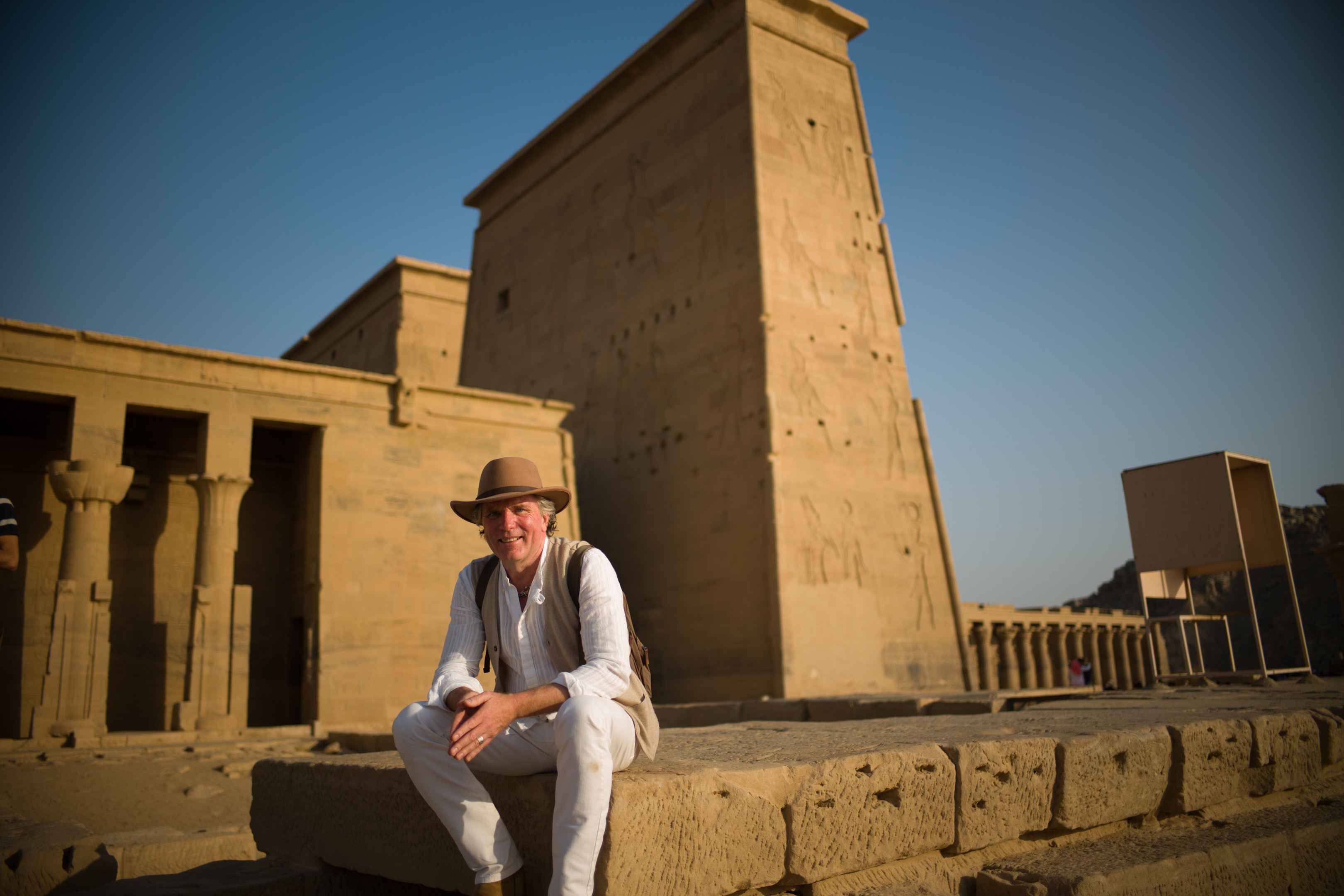 Based on William's unique and original work weaving ancient Tibetan, Christian (Essene) and ancient Egyptian ascension teachings, and tracing them to their common cosmic source, this journey re-aligns you with your 'ascended' self and your soul's sacred purpose.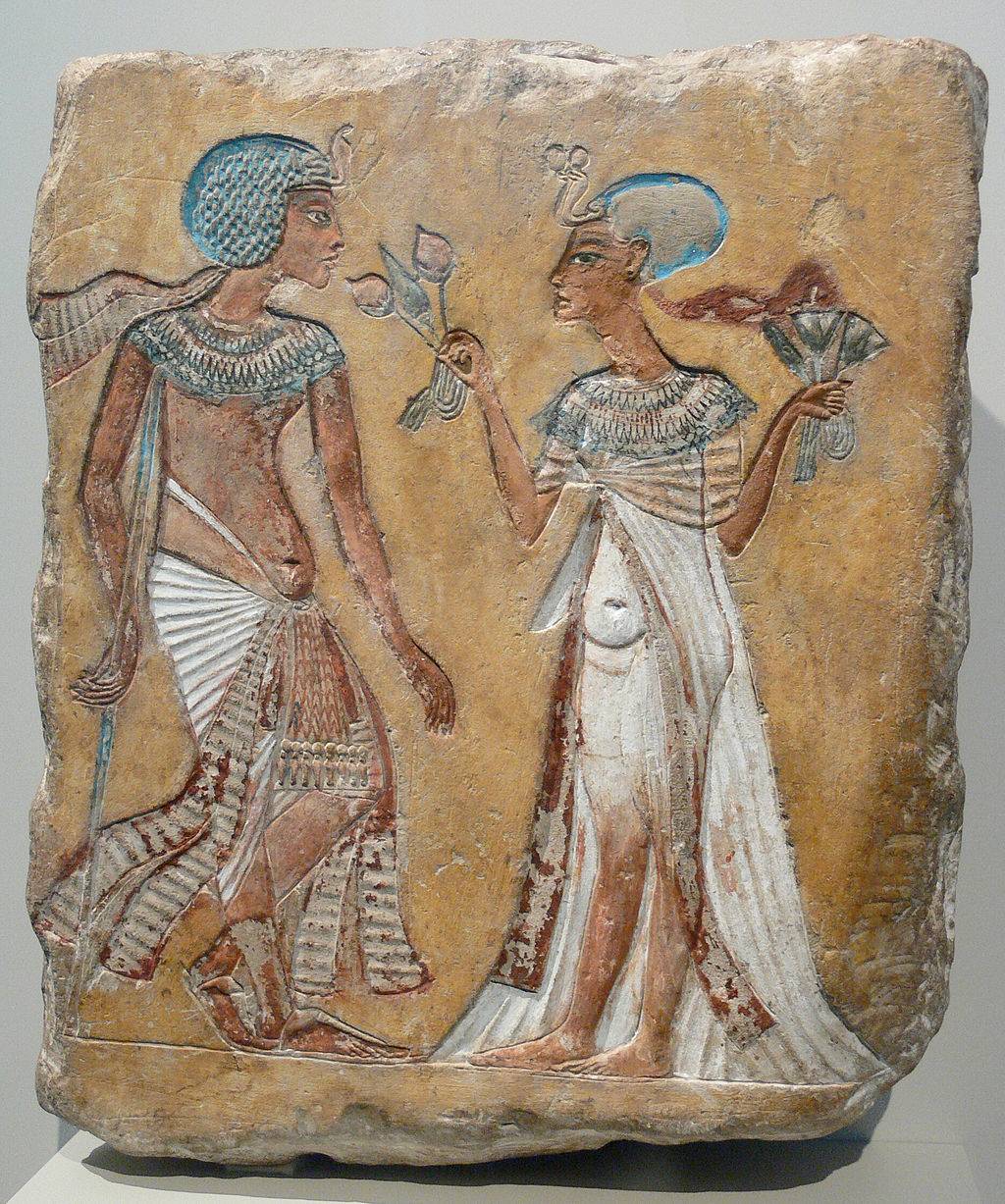 Going beyond sight-seeing is the hallmark of our retreat. Discover your light body. Discover yourself.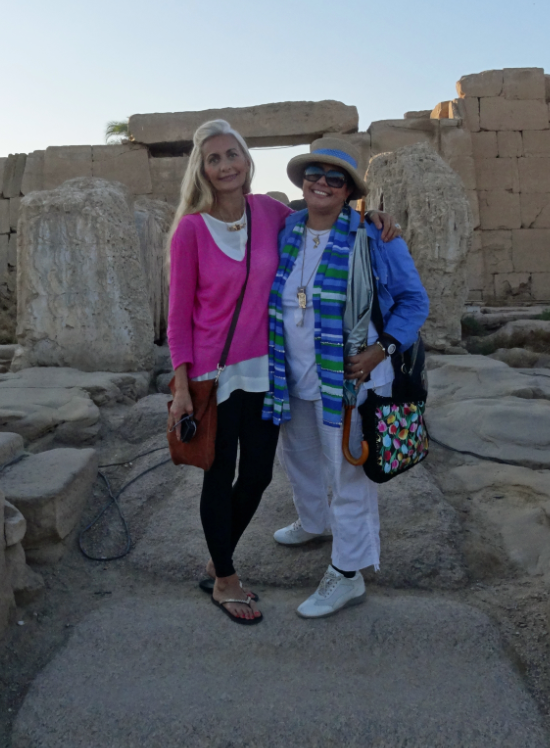 Clare with Hannah, our beloved Egyptologist and guide.
The Nile is the River of Life. It frees the mind, rejuvenates the body and feeds the soul. We have created the ultimate Nile experience with a carefully planned mix of lectures, temple excursions and free time to relax and let the Nile take you away. We don't zoom through the temples or overwhelm you with a whirlwind of tour stops. This only leaves you in a blur. Instead, we take our time and soak up and savor all that this amazing land and river have to offer. We want you to feel as if you have had an incredible consciousness exploration and a much-deserved holiday at the same time.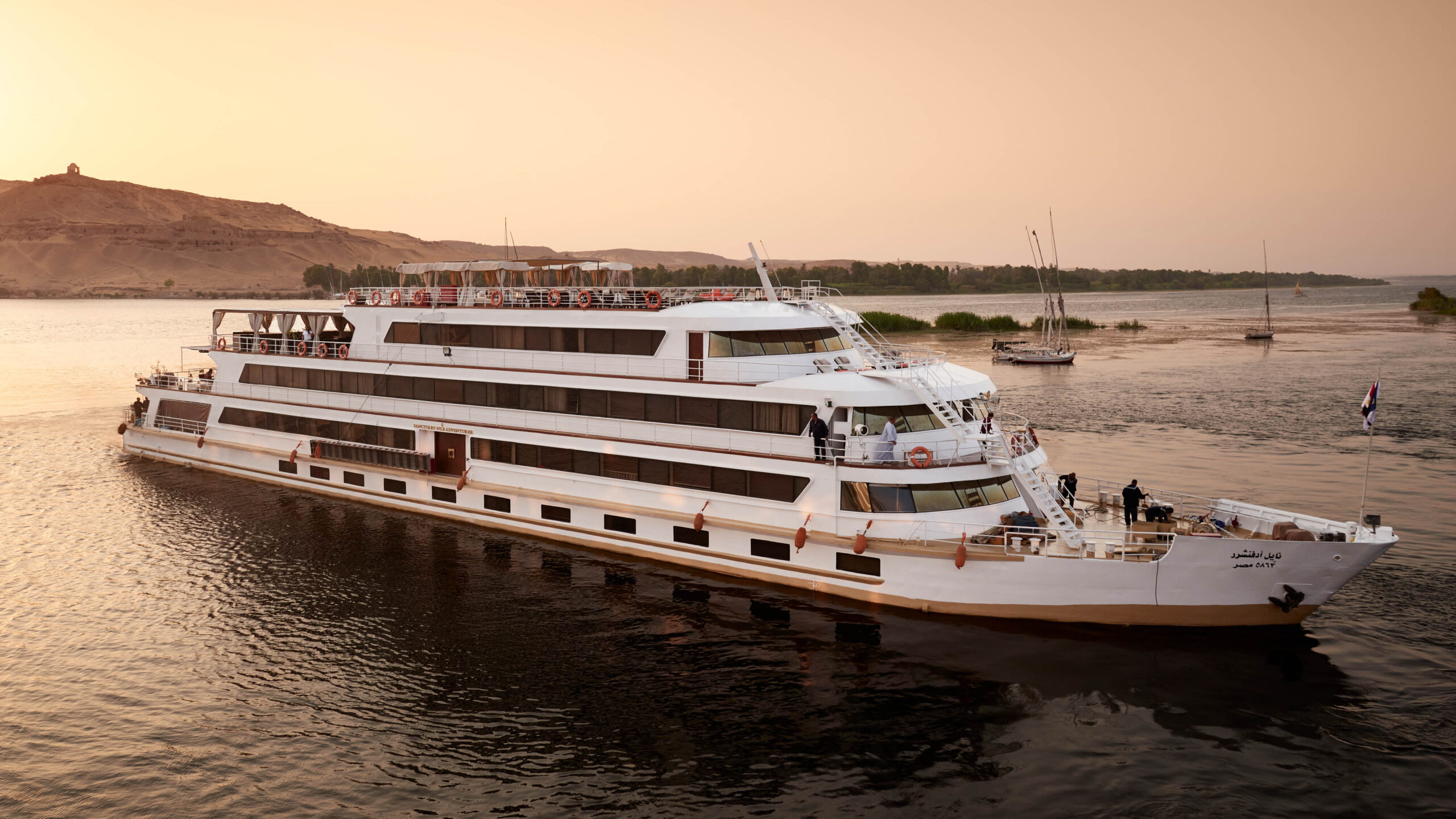 To insure you have the most deeply fulfilling experience, we have secured the elegant Sanctuary Nile Adventurer for our luxurious yet relaxed four night cruise on the Nile from Luxor to Aswan. You will long remember the genuine 5-star luxury on this timeless river.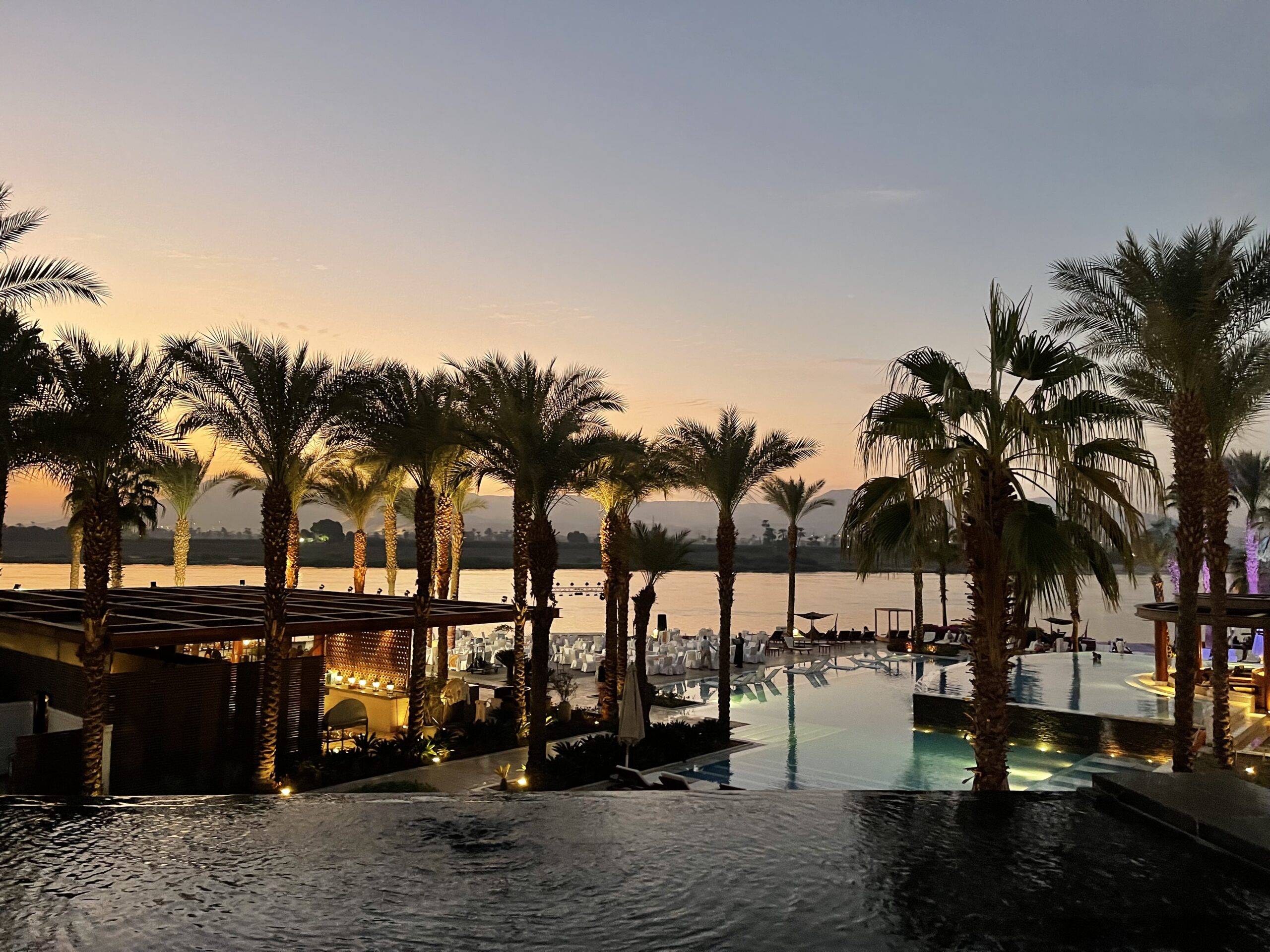 Sunset from the Nile Hilton, our majestic 'temple-hotel' on the Nile. We'll spend five nights at this paradise on the Nile exploring the great mysteries of Egypt — and life — together.
We attract a contemplative community of people seeking a clear path to greater awakening and the gift of joy that group spiritual adventure travel brings. Many of our guests have been with us to Southern France, England or Italy on quests for the great secrets of life and ascension. The compatibility of our guests leads to soul rising experiences and long-lasting friendships.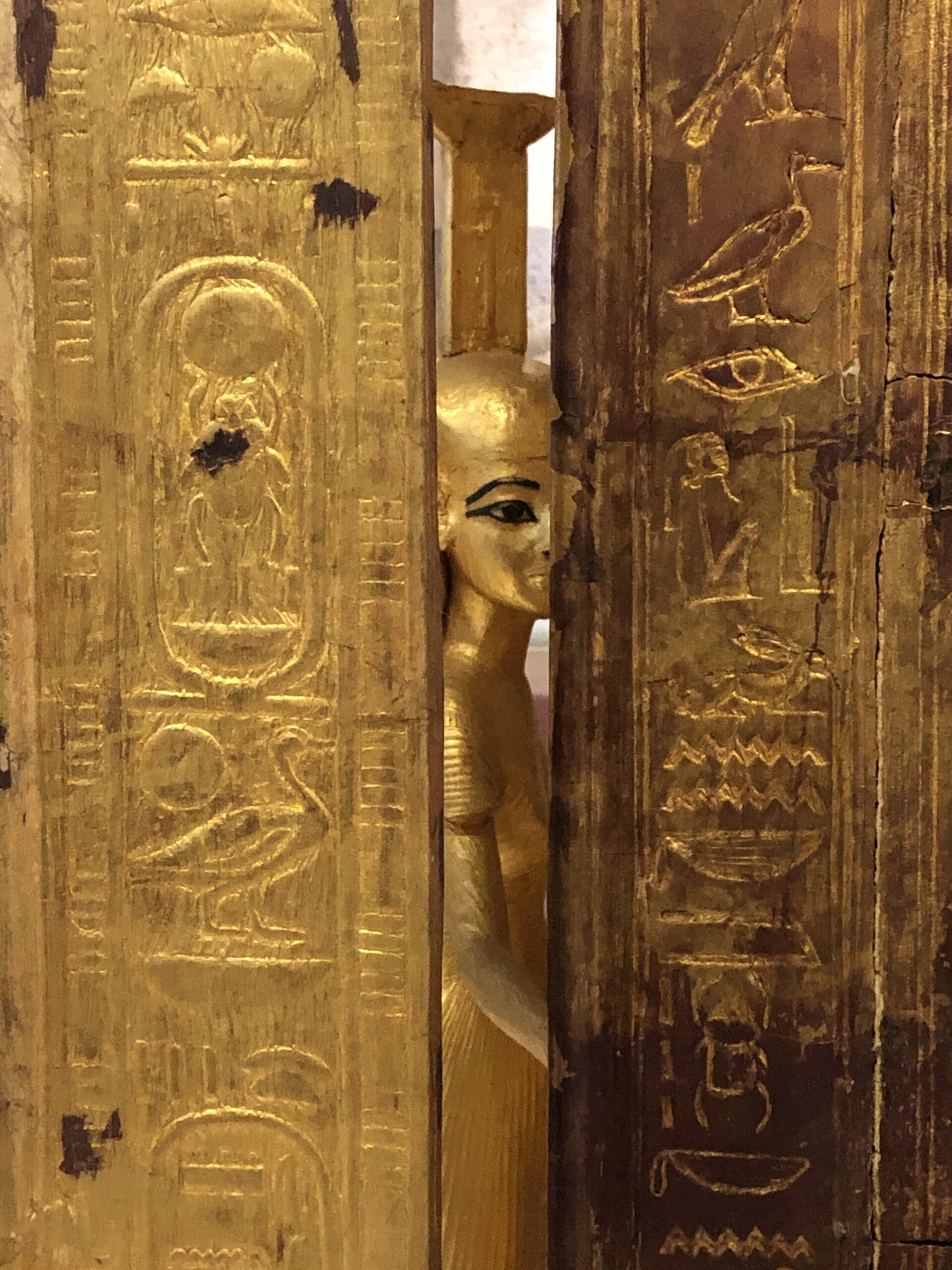 Stand face to face with the greatest mysteries and treasures of antiquity.
Our guests tell us they return again and again because our sacred tours are in a league of their own, out of this world. They outstrip all others when it comes to comfort and luxury, but also insight and wisdom. They love how we are dedicated to creating exceptionally great experiences and thoroughly exciting adventures with high-end accommodations at an affordable price. All delivered with care. We are personally with you from the first email or phone call to the last goodbye in Cairo making sure this is the trip of a lifetime for you.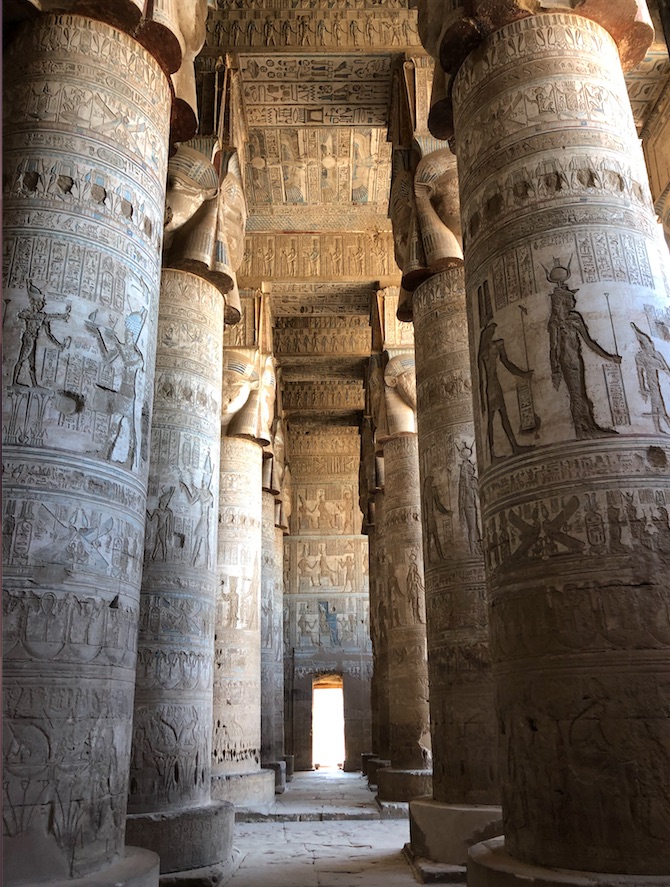 Experience some of the most stunning temples ever created.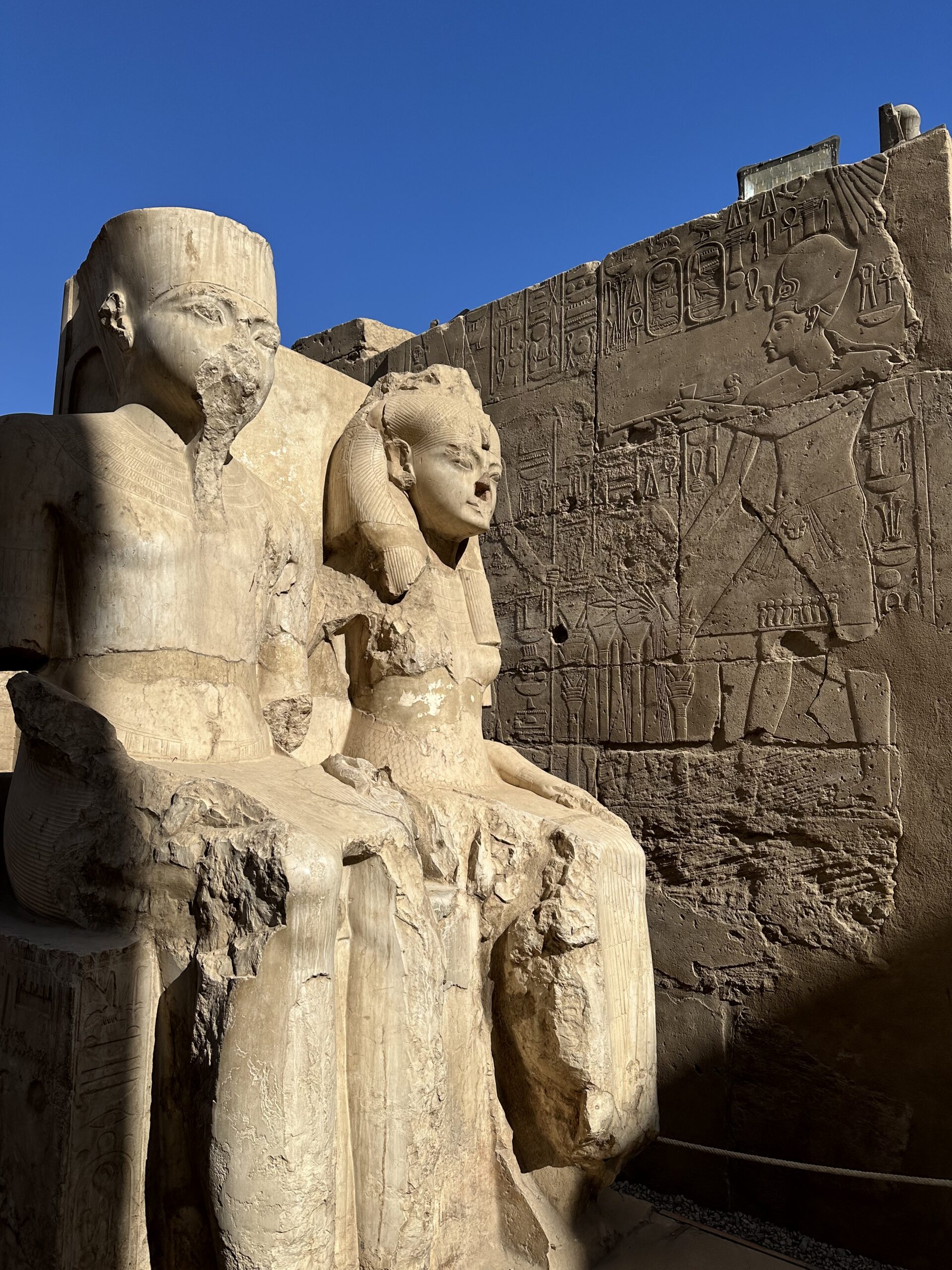 Live your dream! Sacred Egypt 2023 is a gift that keeps on giving. After experiencing the warmth and hospitality of Egypt and her people, guests report that they look at life with new eyes and renewed understanding. Their senses opened and are in tune for a much deeper experience of our changing world. It's like a door or portal opens to a new world.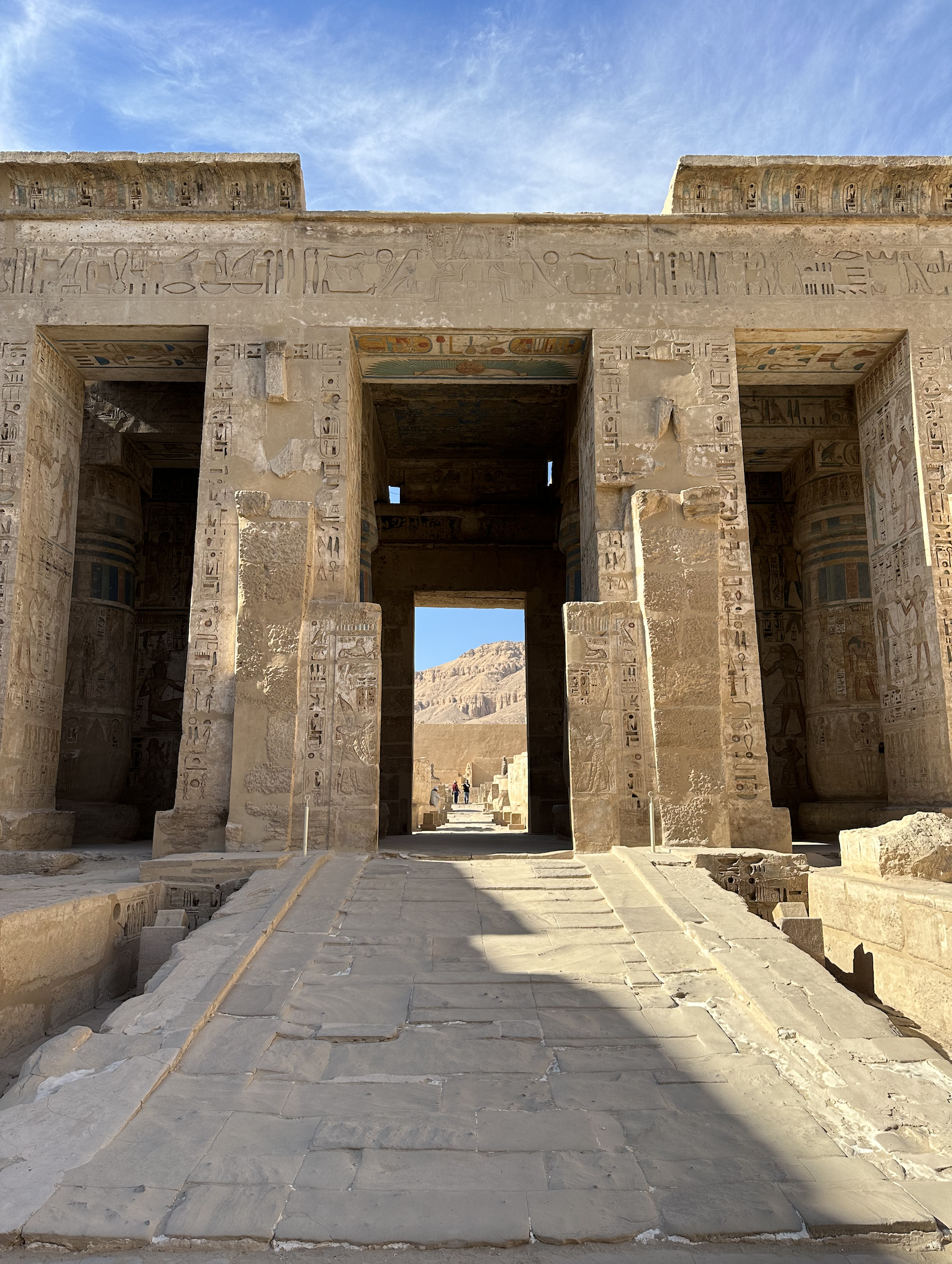 The gates of Egypt open wide. Medinet Habu.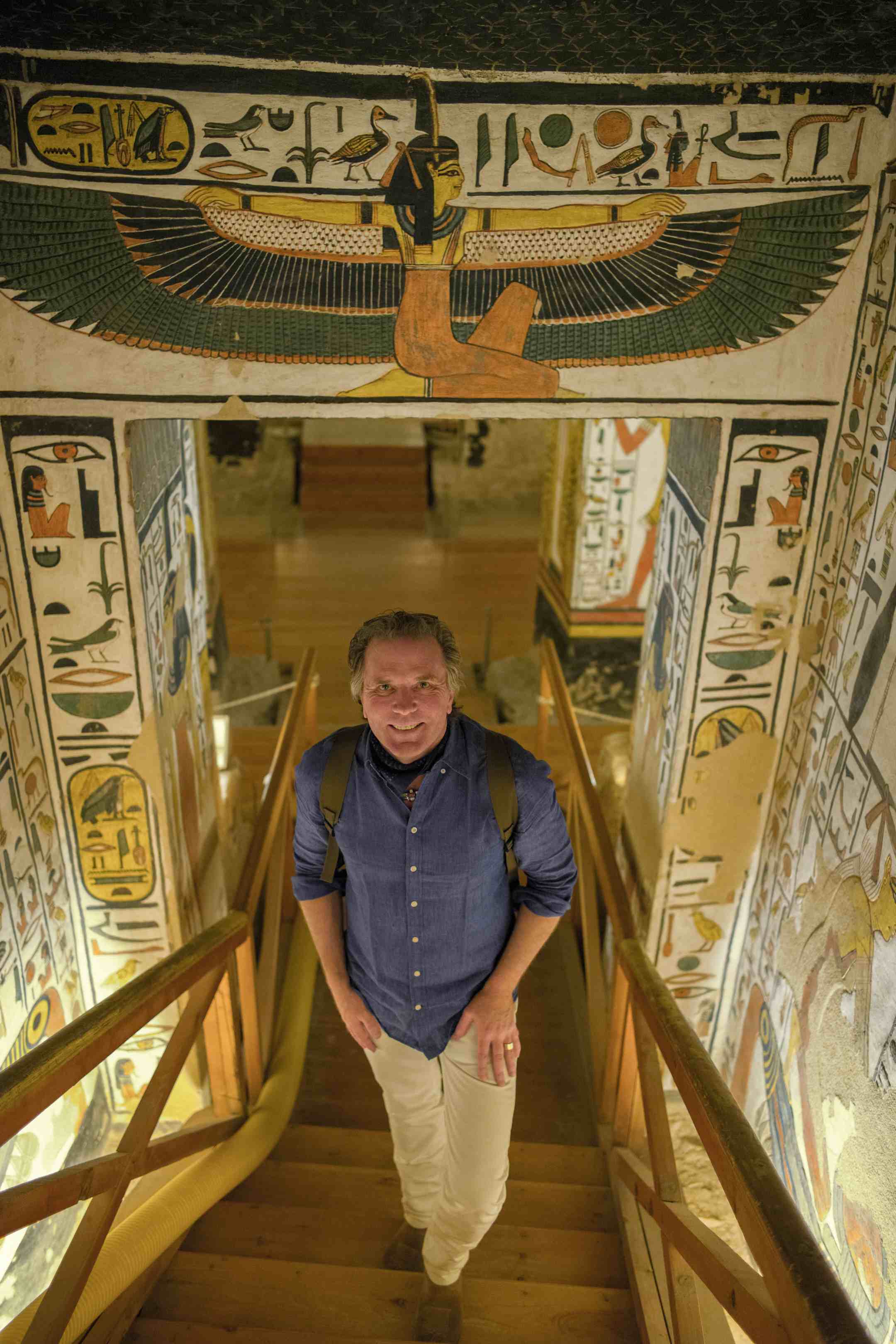 We pull out all the stops to gain access to Egypt's greatest treasures.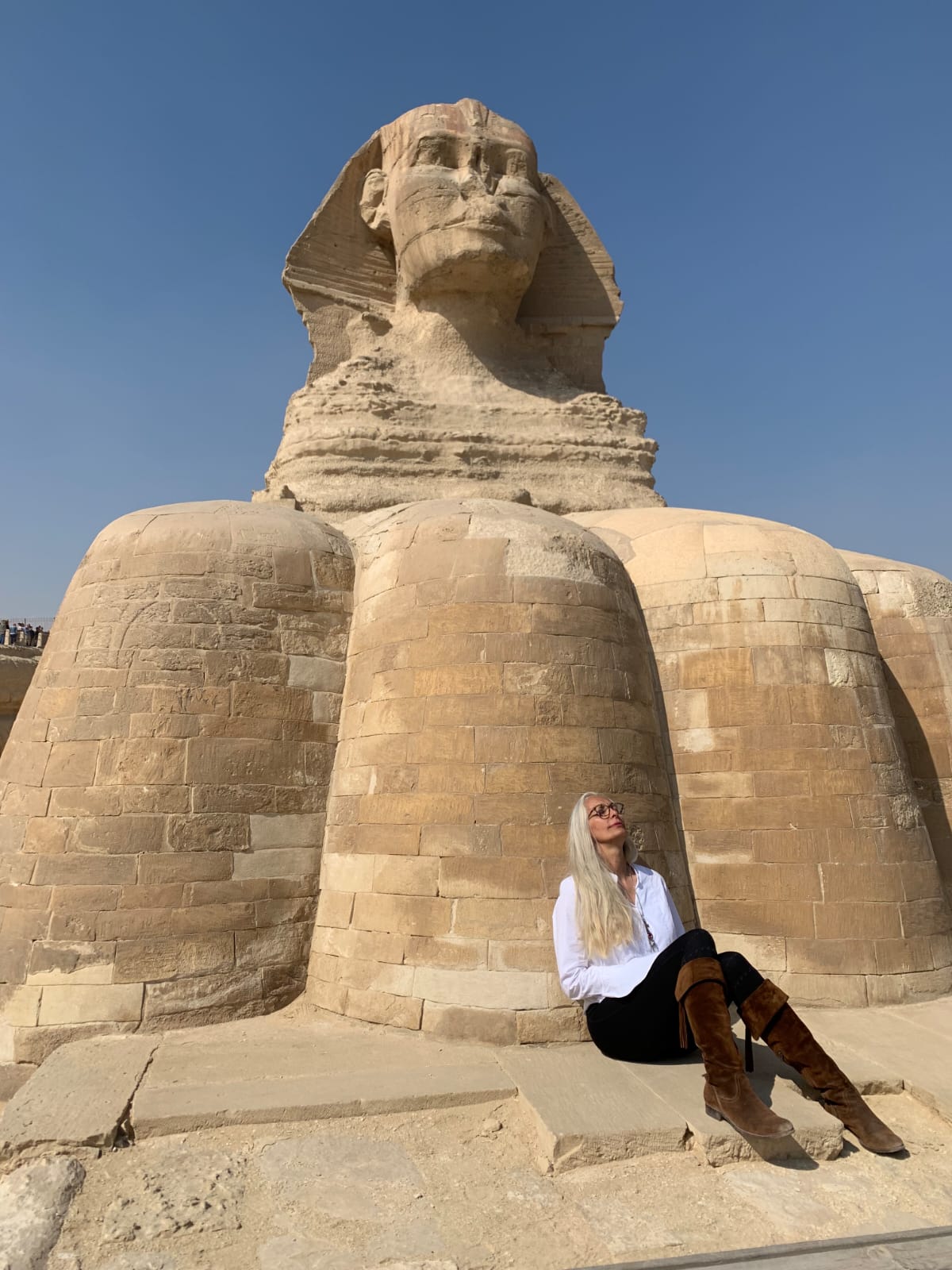 Tour Highlights Include:
• Private access to Sphinx and King's Chamber of the Great Pyramid
• Special access to closed sites
• Lectures by William Henry
• World class tour managers and team
• Unmatched guides
• True 5-Star hotels and boat
• Small group mobility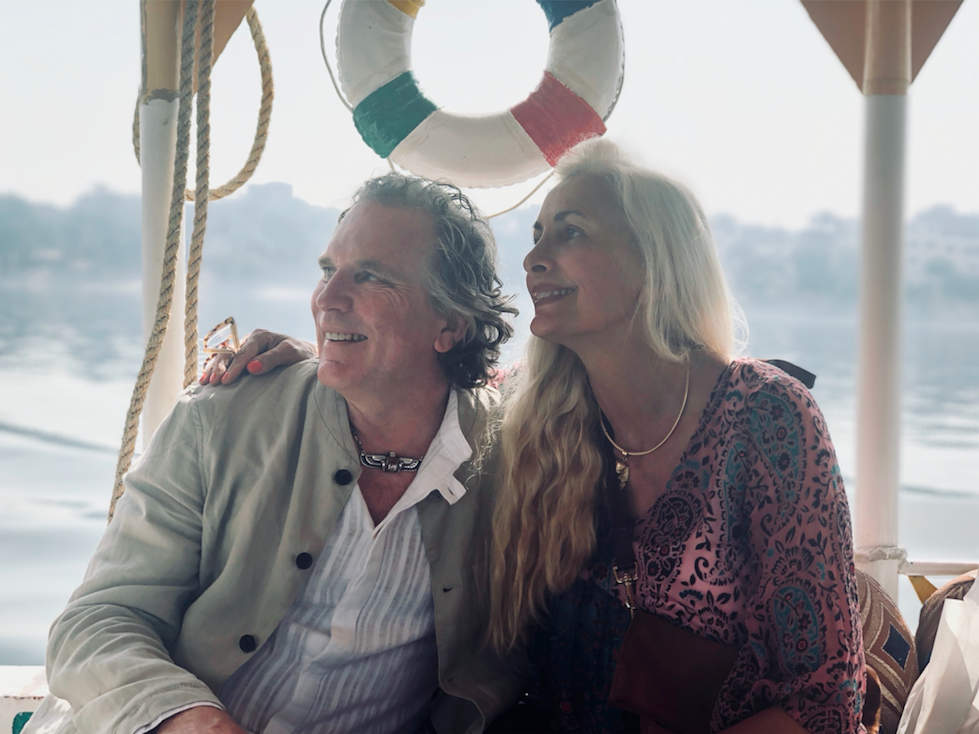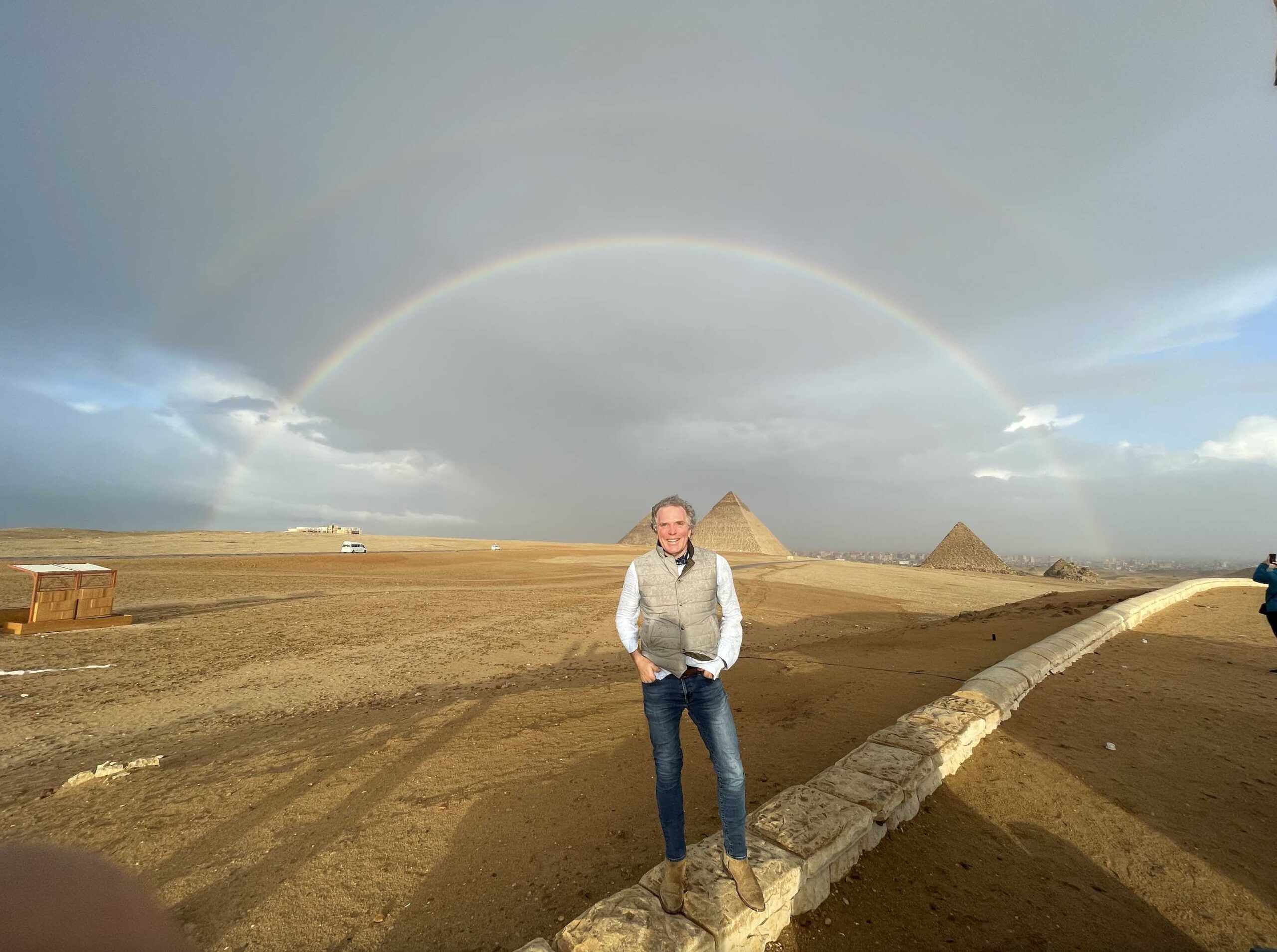 One never knows the magic that awaits in Sacred Egypt.
Simply put, our Sacred Egypt Retreat 2023 is the journey of a lifetime and we hope you can experience it with us…and we with you.
If your soul is calling you to Sacred Egypt 2024, we urge you to request our tour brochure today, so we can secure your seat.
Email William at whenrytn@earthlink.net today or call 615.476.5397 to request a tour brochure.
William & Clare Henry
TESTIMONIALS:
"Thank you William and Clare for yet another masterful sacred journey– this time through Egypt. Each trip that I take with you outshines the previous ones ….which are all most rewarding, fullfillng and mind-expanding.
The quality of accommodations and cruise ship was five star and truly world class. I felt completely safe and secure while in Egypt. Security never entered my mind. To have the professional team of A & K on site at key times (ie airport) was priceless.
This was as smooth a trip as any I have taken in any part of the world. Your choice in Egyptologists and guides were exceptional… they were warm, engaging and knowledgable. Most important was the even pace of the trip, the extensive number of sites we experienced and the most appreciated lectures that William gave in advance of visiting key locations on our itinerary.
I can't thank you both enough for the love and care you put into your tours. They are truly one of a kind and I know they are a key element in my spiritual path. The small, intimate group with liked minded individuals on a similar journey, enabled my trip to be a deeply spiritual one that created the best environment for growth. Now that I am home, the integration begins. And I truly am not the same person I was before I left for Egypt. I am a better version of myself. Thank you from the bottom of my heart for truly a magnificent experience. "
CS Colorado.
"This trip changed my life. I highly recommend this tour to anyone who wants to experience deep sacred site healing vibes while being guided by true experts in the field of Egypt and spiritual exploration. Thank you Clare and William Henry."
VJ, London
"William, this trip in February of 2017 was pure magic! Amazing, mesmerizing sights and a wonderful guide! Your insightful presentations enhanced the trip! It was full of adventure and discoveries! Trip of a lifetime! Every day was filled with remarkable encounters! The Osirion was the place that touched me the most with its mysterious structure, history and energy. I am very grateful to you and Clare for this opportunity and your work making this trip incredibly comfortable, safe and yet fascinating!"
RA, San Francisco
"All I can say is … if you have an inkling of wanting to go to Egypt, just go. It will change you. I do believe however, it's important to be discerning about who you see Egypt with. I went on a tour lead by William Henry and it far exceeded any expectations I could have possibly had. William's knowledge, the standards of hotels, food, guides, security, etc, the other participants who were drawn to this tour, all other details, etc. I am so grateful I listened to my intuition and went on this tour of Sacred Egypt instead of others that are offered. I'm still on cloud eleven (is that possible?)!!!"
GJ, Australia
"I can't say enough about how amazing our Egypt tour was, Our host William Henry and his lovely wife Clare, do amazing trips, and the amazing things you learn along the way are priceless. We never felt afraid or even had any airport troubles.
We were on every mode of transportation you can think of!! ✈️??✈️✈️✈️????⛵️And all went seamlessly.
Behind the scenes they are really working hard the whole time to make sure it all works out.
I really cannot say enough about William Henry himself, but having a calm companionate demeanor was always enjoyable.
Our tour guides from the company they use (Ambercrombie and Kent) were all so amazing."
AB, Arkansas