JESUS WAS LIGHT AND NOT OF THIS WORLD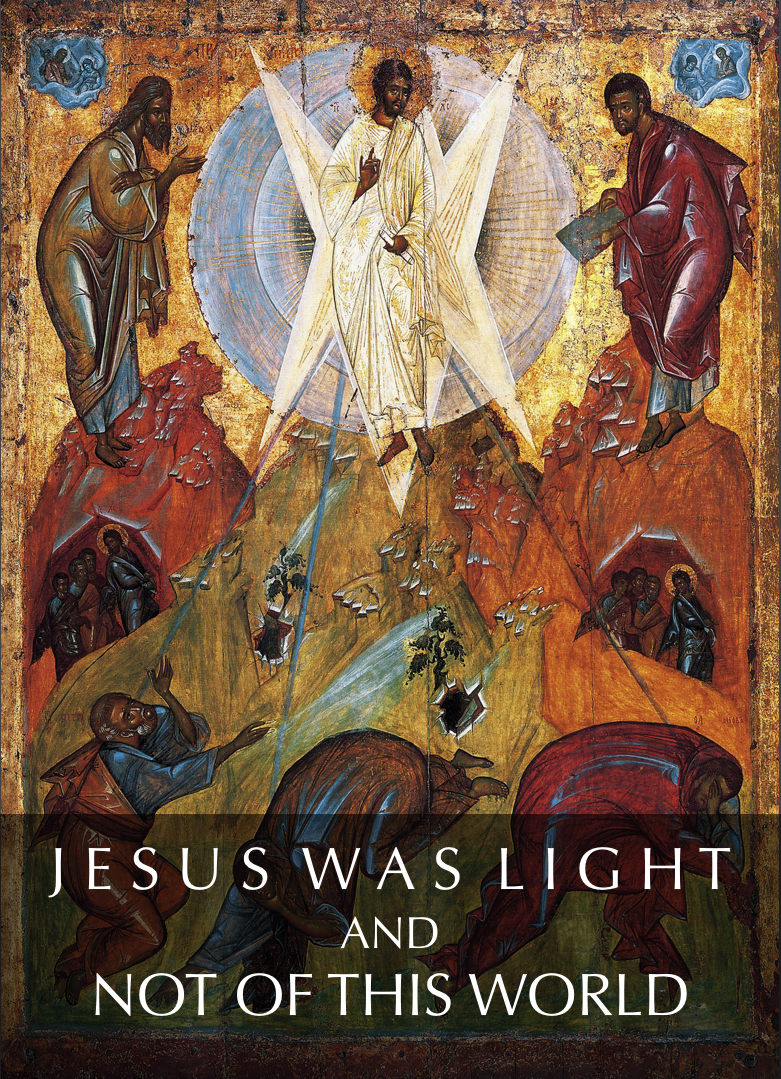 There's been a lot of talk lately saying Jesus was a black man and that images of a white European Jesus should be removed from churches as they are symbols of white supremacy. 
During a powerful June 25, 2020 interview with Martha McCallum, Black Lives Matter Greater New York chair, Hawk Newsom, said Jesus was black because the Bible says he had wooly hair and feet like bronze. 
At 4:42 he described Jesus as a black revolutionary. Martha appeared somewhat puzzled by his comment, as if she was trying to recall from Sunday school what the Bible says Jesus actually looked like.
Newsom didn't say so, but it sounds like he was citing the Book of Revelation 1:14 in which John the Revelator had a vision of the ascended Christ in the heavenly realms: 
13and among the lampstands was One like the Son of Man, dressed in a long robe, with a golden sash around His chest. 14The hair of His head was white like wool, as white as snow, and His eyes were like a blazing fire. 15His feet were like polished bronze refined in a furnace, and His voice was like the roar of many waters.…
This matches the description of the Ancient of Days in the Book of Daniel (7:9), As I continued to watch, thrones were set in place, and the Ancient of Days took His seat. His clothing was white as snow, and the hair of His head like pure wool. His throne was flaming with fire, and its wheels were all ablaze.
Moreover, Daniel 10:6 says his body was like beryl, his face like the brilliance of lightning, his eyes like flaming torches, his arms and legs like the gleam of polished bronze, and the sound of his words like the sound of a multitude.
Anyone is perfectly entitled to interpret these accounts in any way one wishes. 
However, when I read John and Daniel it sounds more like they are describing a close encounter with a being of light in an extraterrestrial domain than a physical encounter with an earthly human (black, white, red, yellow, olive, or whatever color skin). Their accounts match many others of the angels and Christ as a luminous humanoid beings, often wrapped in a rainbow light. The rainbow denotes their ascended state of being, as does the clothing as white as snow. The whiteness symbolizes a state of purity, not a human racial identification.
It is interesting to note that Native Americans have legends of the visit of the Pale One, a healer and prophet who matches Jesus.  In He Walked the Americas, L. Taylor Hansen gathered the oral histories of native groups all over the Americas and islands that tell about a white God that taught them to love one another, had marks in His hands, had the power to move mountains, and organized twelve disciples. The Healer was a pale-skinned man with a beard and robe who came from the ocean. 
If this Healer was Jesus (the marks on His hands infer a post-resurrection appearance) then it is likely he was not in a flesh and blood body. He was a light being (who could phase between his material and immaterial body). He was glowing and emitting pure light. This is important as it identifies Jesus as a member of a race of otherwordly perfect light beings described in the Gnostic texts and elsewhere.
Jesus states his otherworldly place of origins directly in John 8:23: "You are from below. I am from above. You are of this world. I am not of this world."
Previously, in John 10:1-7, Jesus said: "Truly, truly, I say to you, I am the door of the sheep. All who came before me are thieves and robbers, but the sheep did not listen to them. I am the door. If anyone enters by me, he will be saved and will go in and out and find pasture." When Jesus is saying he is the door of the sheep, he is indicating he is the door of the sheepfold, the protected area with a gate (the higher dimensions).
This raises an important point. If we focus on the color of Jesus's earthly skin (as a Middle Eastern Jew he probably had olive skin), rather than his origins and the nature of his celestial flesh, do we risk missing the point of why he came?  And where his is leading us?
His mission was to show us the Way to transform human civilization to one based on righteousness and love, and to transcend the limitations of the flesh by transforming our precious human bodies into beings of light. This will bring about the birth of a New Humanity.
The creation of a New Humanity is the leap our culture is attempting to make at this time. I, for one, am eager for the global conversation to begin about how we all become sovereign beings of light. It is the only Way forward.
As an art historian I have extensively studied the images of Jesus, both in his earthly and heavenly states.
There is no doubt among art historians about what Jesus looked like. The first icon of Christ, the Shroud of Turin, clearly shows his face. It is matched by the second oldest icon of Christ (below, left). Discovered in 1962 at St. Catherine's monastery in the Sinai, Egypt, it was likely made before the 5th century AD. This icon, and the Shroud, are the basis for the face found on hundreds of paintings.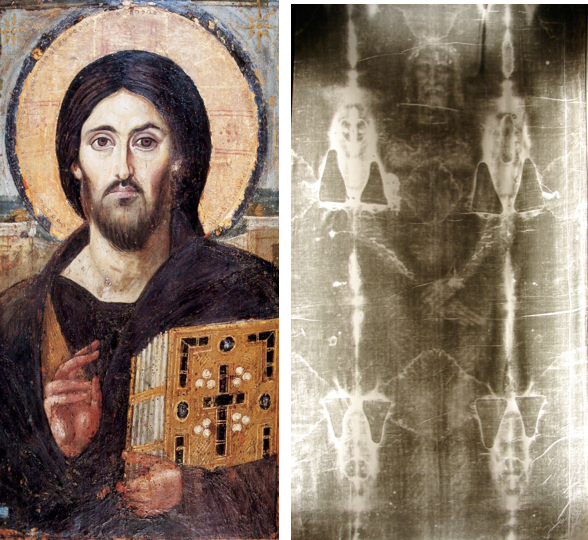 The Sinai icon (left) shows the same face as the Shroud of Turin, the burial cloth of Jesus.
A third icon, the Transfiguration, clearly portrays Jesus with dark skin.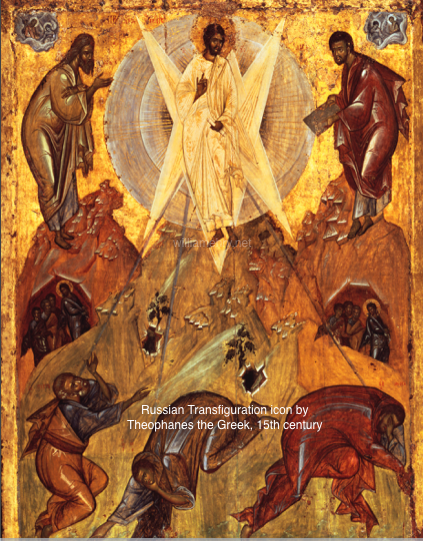 Transfiguration icon, 15th century.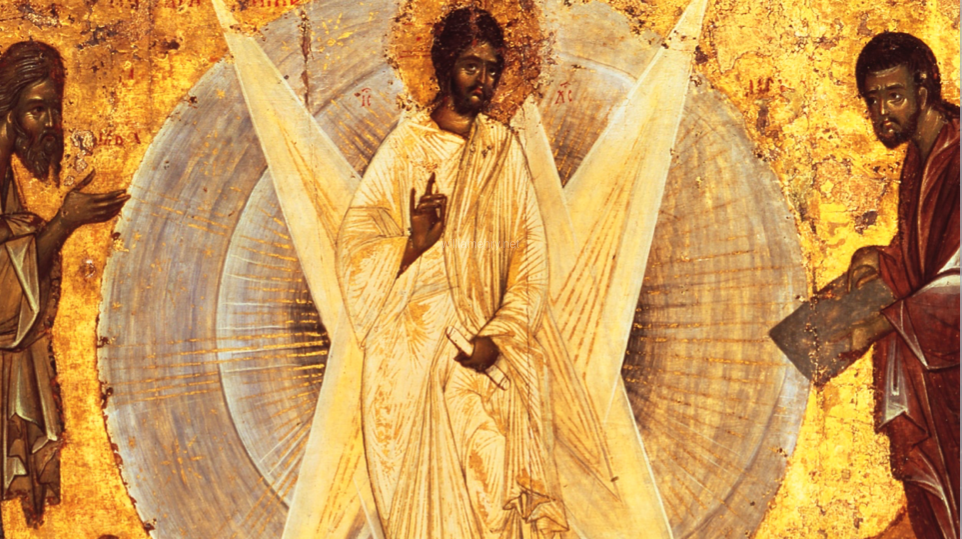 The point of this icon is not to stress Jesus's middle Eastern appearance. Rather, it was to point to an ability all humans possess. That is, to transfigure or change our form from earthly flesh to celestial flesh, from impure to pure, from mass to light.
Following in the path of the Black Lives Matter movement, on June 27, 2020 Justin Welby,  the archbishop of Canterbury and head of the Church of England, said the west in general needed to question the prevailing mindset that depicted Christ as a white man in traditional Christian imagery. He noted that several statues at Canterbury and Westminster Cathedral will have to come down.
While I am all for accuracy and authenticity in historic portrayals, I am deeply concerned about the trajectory of these events. It is hard to imagine the beautiful churches and cathedrals of England and Europe stripped of their "white" Jesus imagery. However, we are on a slippery slope that could see this happen.
Will Korean Christians be told to destroy their images of Jesus as Korean? What about the Chinese interpretations? Is this just the beginning? Where will the destruction of sacred imagery stop?
As advocates of the power of sacred art, Clare and I are working on an initiative to bring about awareness of how art unites rather than divides us. We will soon have news about how you can participate, too.