ANCIENT ALIENS: THE LOST EPISODES / PATHWAYS TO ASCENSION
February 4-6, 2016
SARASOTA, FL
Join William Henry, the spiritual voice of the History Channel's hit TV show, "Ancient Aliens," for an exploration of topics "too hot to handle" for the network. As a story contributor to Ancient Aliens, William knows first hand that there are ancient alien accounts that are banned due to their controversial nature. William brings these stories to you and more.
Friday, February 5 7:00 - 9:30 pm
Saturday, February 6 10:00 am - 5:00 pm

Ascension teachings and light body empowerments of Akhenaton and Nefertiti, Jesus and Mary Magdalene, Padmasambhava ("the Second Buddha") and Yeshe Tsogyal, the female Buddha and St. Francis and Clare of Assisi (called the Second Christ and Magdalene) among others.
Are you ready to experience an intimate connectivity to your enlightened self?
Join William Henry as he shares his latest findings and puts you in spiritual alignment with history's greatest avatars whose lives are model parthways to Ascension. By interlinking the stories and teachings of these illuminated beings, we hope to uncover the secrets of human transformation into beings of light and love.
If you joined us for William's 2015 presentations, you know that he, along with his wife, Clare, has a passion for sharing sacred art. As a result of his recent travels in Italy and Egypt his collection of "divine portals" has grown. You will feel the presence of these divine beings fill you heart and the room around us as the light and frequencies encoded in the art feed your light body and infusie your healing imagination with new energy.
Our world has reached the threshold of a time unlike any other. This time requires that we tap into the deep resources and transformative powers of our hearts and be of service to the world. It's time we burn away the old with love.
We will follow the timeline from Egypt's 18th Dynasty avatars, Akhenaton and Nefertiti, to the recovery of their teachings by the Essene mystics Jesus and Mary Magdalene, to the 8th century masters, Padmasambhava and Yeshe Tsogyal, who taught the inner alchemy Rainbow Body of Light empowerment.
In the 13th century St. Francis of Assissi attained his ascension after an encounter with the resurrected Jesus as a Seraph angel. He became known as the Second Christ. His partner, St. Clare, became known as a second Magdalene. He explains how Francis embodied the teachings of the Essenes, the Jewish mystics who taught Jesus and how his journey among the Cathars transformed him.
William shows how the ascension timeline begun in Egypt in c. 1500 B.C. is now finding its ultimate fulfillment…in us.
In this original, scholarly, provocative and illuminating workshop, William weaves together the teachings of these great ascended masters and avatars, creating a time of deep and intimate connection to your light body. We are the children of these avatars. We are their light bearers. William and Clare look forward to joining with you in light and love.
COSMIC CENTER OF SPIRITUAL LIGHT
5041 RINGWOOD MEADOW, Bldg. G-2, Sarasota, FL (941) 371-9333

REGISTRATION

$175
For registration and additional information please contact Sharon-Elizabeth James at Cosmic Center of Spiritual Light
Email: vulcana888@aol.com
Phone: 941-321-9365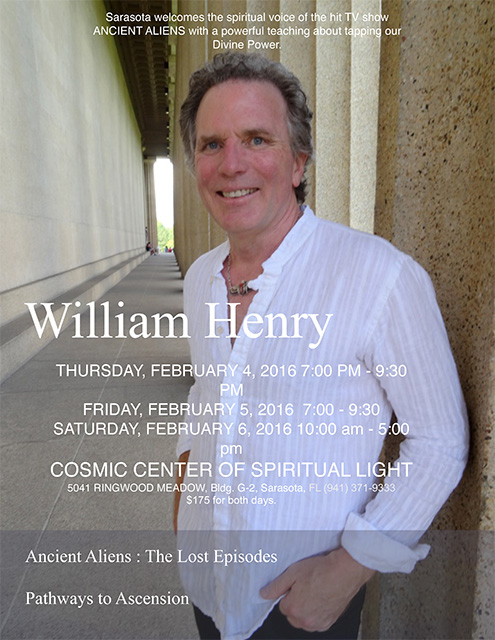 CONSCIOUS LIFE EXPO
Online 3 Day Summit
February 19-21, 2016
LOS ANGELES, CA
William returns to the Conscious Life Expo in Los Angeles.
His appearances are:
FRI, Feb. 19: 7:00 pm Live show with Jimmy Church (plaza ballroom, live audience)
SAT, Feb. 20: 10:00 am Ancient Alien Panel with Jason Martell, Mike Bara and other presenters from "ANCIENT ALIENS"
2:00pm – 4:00pm George Noory Future of Humanity Forum along with James Redfield, Nassim Haramein, Dannion Brinkley and
others.
5:00pm Speaker and George Noory Meet and Greet
SUN, Feb. 21: 12:00 – 1:30 pm Workshop
Divine Convergence or Alien Plot? The "Skingularity" and Ascension of the Cosmic Human
Otherworldly Technology, New Cosmic Energies, Human flesh, all are now merging. This is the turning point. The Ascension. The Transformation. It is the source of that gnawing feeling that you can?t put your finger on. William calls it the Skingularity. The title is a word play on 'Singularity', when the machines we are making become artificially intelligent, totally aware and take over.The time is now to understand the source and immensity of the change before us.William's goal is to help you comprehend and navigate the epic transformation of which we and our children are a part and will soon reach the point of no return.
MON, Feb. 22: 2:00pm to 4:30 pm Post Conference Workshop
The Essene Rainbow Body Empowerment : Human Transformation Into Celestial Beings
In this presentation you will learn what scholars have been hiding about the Essenes, the tribe of mystics from where Jesus and Mary Magdalene emerged. Since their discovery in 1947, the core of the Essene texts have been sealed away. Why? After spending years scaling the ivory towers of academia to recover this lost knowledge, William is now ready to reveal his awe-inspiring findings. Known as the Holy Ones, the books of the Essenes reveal they lived with angels who came to earth to empower humans to transform into celestial beings and to open portals to the celestial realms. In shocking detail they describe celestial cities alien beings, stargates, hidden agendas, and new, spiritually advanced humans.You will come away with easy-to-do actions and teachings that can dramatically shift your consciousness and beliefs about what is possible for you and ultimately will connect you with a source of deep compassion and wisdom within you. Included is an Essene-based journey/meditation for enhancing the light body you won't want to miss!
Find out more and book your place...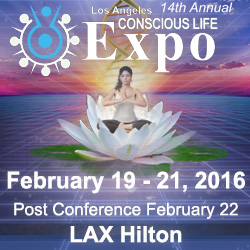 STARGATE TURKEY 2016:
Sacred Gateways to Ascension
April 13 - 27, 2016
TURKEY
Clare and I are thrilled to announce Stargate Turkey: Sacred Gateways to Ascension, April 13-27, 2016.
Our next amazing journey! Now booking.
We invite you to join us in our continuing journey, begun in Egypt, France, Italy and England, in search of the lost secrets of ascension in some of the world's most sacred places and amidst humanity's most magnificent works of art.
It's time for Turkey. Ascension art, history and culture converge in this magnificent and stunningly beautiful country. From the world's oldest temple, to the world's biggest dome, to the cradle of early Chrstianity, on our journey to Turkey we will uncover the timeless message and secrets of the mystics.
Istanbul, Cappadocia, Gobekli Tepe, Konya, Antalya, Ephesus, Pergamum. All are on our itinerary, and more! Experience sacred Turkey with William and Clare.
Our next amazing journey! Now booking. Find out more and book your place...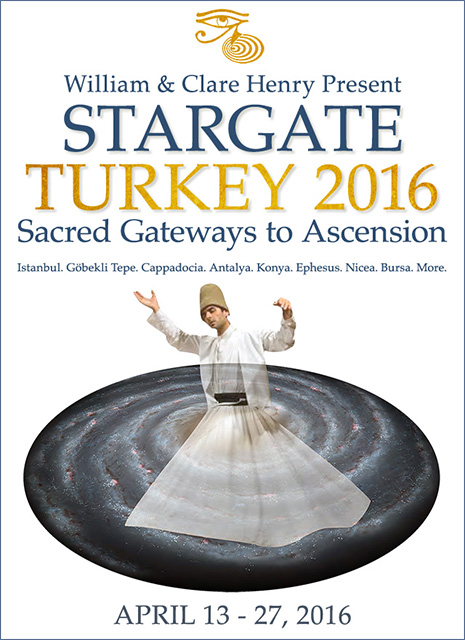 A.I.: ASCENSION INTENSIVE
Self Empowerment Workshop
May 21-22, 2016
NASHVILLE, TN
Artificial Intelligence and the Skingularity, the fusion of our bodies with technology, is upon us. The future is now. It is time to raise our Ascension Intelligence and live from our Divine Light Being Self.
Join William & Clare Henry for a powerful and transformative ascension weekend gathering in Nashville, TN. Find out more and book your place...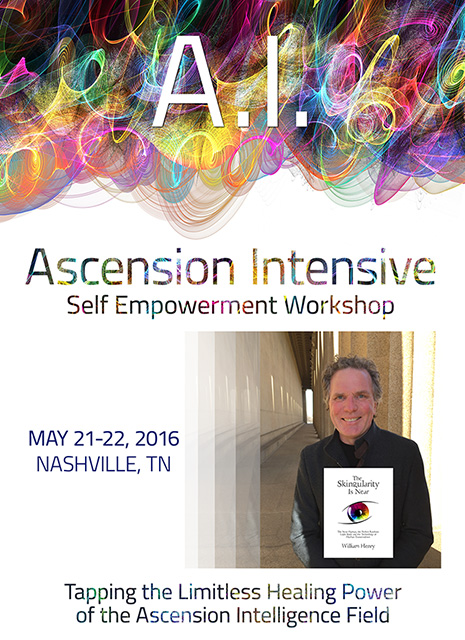 THE ASCENSION OF AVALON
Sacred England & Mysteries of the Tudor Rose
September 4-13, 2016
GREAT BRITAIN

"Ascension of Avalon" is a 10 day adventure to the sacred places and spiritual roots of the holy island, Great Britain, and her greatest mystery, Avalon - the place where this world and the otherworld meet.
Winchester. Salisbury. Glastonbury. Avebury. Stonehenge.
Windsor Castle. Hampton Court Palace. Hever Castle and more.
Our journey takes us to the southwest of Great Britain in search of that spiritual essence or magnetism that makes this land so uniquely enchanting. This is the essence of the Ascension of Avalon.
The romanticists believed that the British Isles, having survived the deluge of Atlantis, were destined to become the magnetic center of civilization.
Along the way we'll visit stone circles, earth works, holy hills, noble ruins, museums and cathedrals, places that have been 'light centers' for centuries.
We'll see how these places are being filled with a new light and how they form a grid that may well make Great Britain the world's most potent spiritual pilgrimage site.
We'll encounter some of Great Britain's most colorful characters in some of her most mysterious places. Find out more and book your place...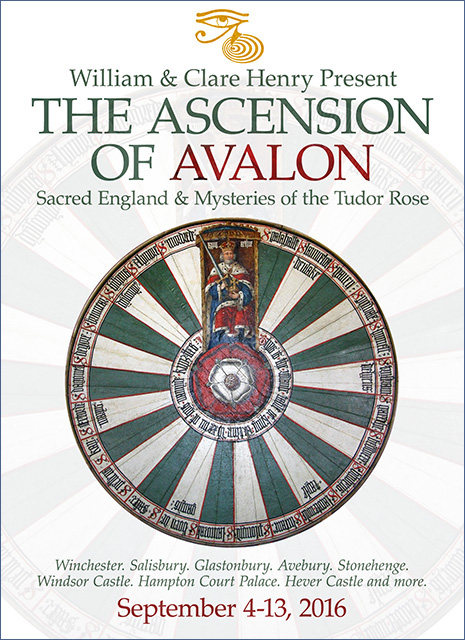 STARGATE EGYPT 2016
Ancient Mysteries, The Key of Life and the Lost Secrets of Ascension
October 23-November 7, 2016
EGYPT
Experience the wonder of ancient Egypt and a sacred journey within yourself on this exclusive luxury retreat and soul escape to the sacred temples of ancient Egypt.
Sail on a three-night Nile river cruise on one of the top 100 luxury boats in the world.
Enjoy five amazing nights at one of the world's great luxury spa hotels absorbing the mysterious beauty of Egypt.
Experience deeper insight into the magnificent temples / stargates of Egypt with a seasoned and expert team.
Avoid crowds and rushing through temples with a relaxed schedule and exclusive entrances.
Each day will include "insider" explorations of the temples, special meditations, discussions and activities to help deepen your connection to this powerful ancient land and tap into lightest aspects of your self. We'll do our best to help make this feel like an individual retreat. Find out more and book your place...