Are you ready for the next step in your soul's evolution? Wondering what you can do to create a greater change in your life and the lives of others? Discover the power of SOUL RISING.
William Henry's SOUL RISING is an extraordinary seminar designed just for you. He'll be doing variations of this presentation throughout 2012 & 2013.
SOUL RISING takes you on a journey using hundreds of high quality slides of encoded ancient and sacred art that enable you to see, feel and experience the secrets of enlightenment with more power and clarity. The power of these images will energize and inspire you. The result is a phenomenal experience that speaks to and activates knowledge and energy deep within you – your light body. William's personable and reasonable approach will leave you feeling like you've found a long lost friend and discovered a long lost light within yourself.
The group mind of SOUL RISING events helps to enlighten each other by using the power of our collective imagination to focus and reflect our highest selves. You'll be amazed at the levels of spiritual advancement you'll experience.
"Every time you give your lecture, your Rainbow Body becomes brighter and more colorful. You probably already know that but it's good to get validation when one goes into uncharted waters. You are soooo on course. Keep trusting yourself as you sail out into the next uncharted territory. You are a way shower."
Join us at a SOUL RISING event and dedicate yourself to wholeness, holiness and the completion of your Soul's Mission.
WANT TO HOST A LECTURE OR WORKSHOP?
William Henry is always looking for workshop and lecture venues large and small throughout the world. If you'd like to host one, or know someone who hosts events or symposiums, please email William at whenrytn@earthlink.net.


THE REVELATIONS SYMPOSIUM: THE UNVEILING
May 17-19, 2013
Nashville, TN

You are invited to attend an extraordinary event in Nashville, Tennessee.
The Revelations Symposium: The Unveiling, featuring Graham Hancock, William Henry and Whitley Strieber, is your opportunity to spend an amazing and epic weekend with the three leading lecturers and authors specializing in ancient civilizations, advanced consciousness and the unveiling of extraterrestrial contact. A fourth special mystery guest to be announced later will join this engaging line-up.
Let's get together and reveal the truth of our times.
Participation in this one-of-a-kind event is limited to 140 people to insure personal attention and participation.
Registration is $310.00. Find out more...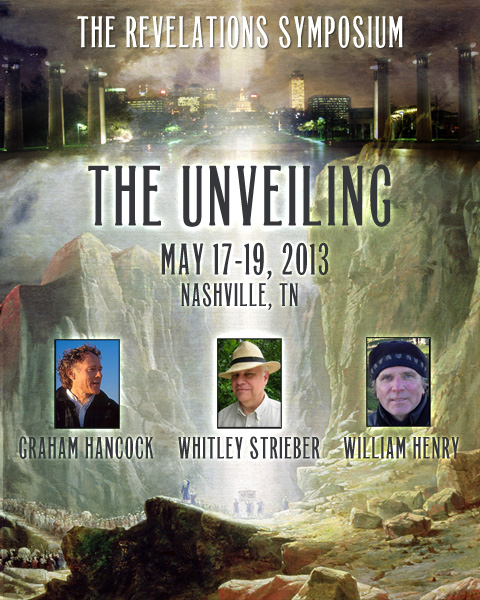 OZARK MOUNTAIN TRANSFORMATION CONFERENCE
Jul 19-21, 2013
SPRINGDALE, AR
Join William and George Noory for Dolores Cannon's Ozark Mountain Transformation Conference. Find out more...



CONTACT IN THE DESERT
Aug 9-11, 2013
JOSHUA TREE, CA
Join William in Joshua Tree for an extraordinary weekend in the desert August 9-11. Find out more...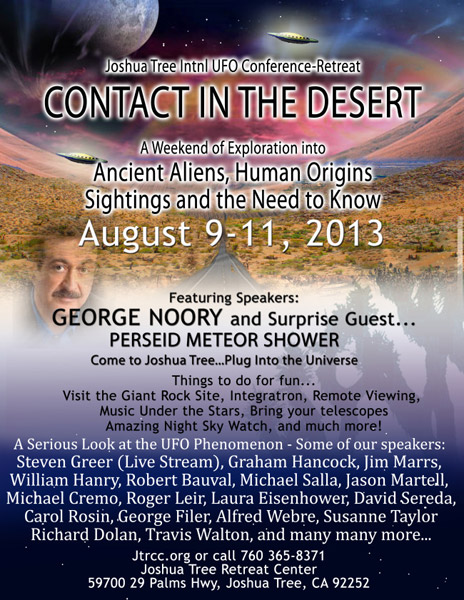 CONSCIOUSNESS & HUMAN EVOLUTION CONFERENCE
Aug 23-25, 2013
LONDON, UK

William will join Gregg Braden, Dr. Eric Pearl, Lynne McTaggart and Drs. JJ and Desiree Hurtak for London's "Consciousness & Human Evolution Conference 2013, August 23-25. Attend the event, and then join William for his Avalon Awakens tour of Southwest England. Find out more...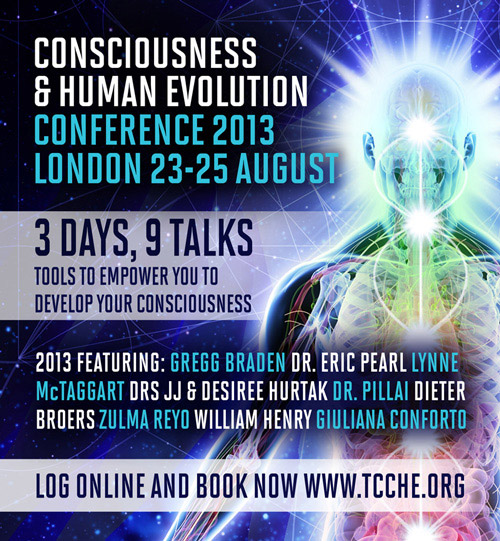 AVALON AWAKENS
Experience the Soul of Sacred England & The Grail Mysteries
Aug 28 - Sept 4, 2013
ENGLAND
"Avalon Awakens" is a 7 day adventure to the sacred places and spiritual roots of the holy island, Great Britain, and her greatest mystery, Avalon - the place where this world and the otherworld meet.
The romanticists believed that the idyllic British Isles, having survived the deluge of Atlantis, were destined to become the magnetic center of civilization.
Our captivating journey takes us to the southwest of Great Britain in search of that spiritual essence or magnetism that makes Great Britain so uniquely enchanting.
AVALON AWAKENS enables you to explore this spectacular land in luxury and comfort, truly immersing yourself in the people, places and energy that defines this part of Britain.
Along the way we'll visit powerful stone circles, earth works, holy hills, noble ruins, museums and cathedrals, places that have been 'light centers' for centuries.
We'll see how these places are being filled with a new light and how they form a grid that may well make Great Britain the world's most potent spiritual pilgrimage site.
We'll encounter some of Great Britain's most colorful characters in some of her most mysterious places.
William's presentations will focus on the mysteries of the Holy Grail and its connection to the attainment of the Rainbow Body of light linking Jesus and Mary to name but a few. Find out more and book your place...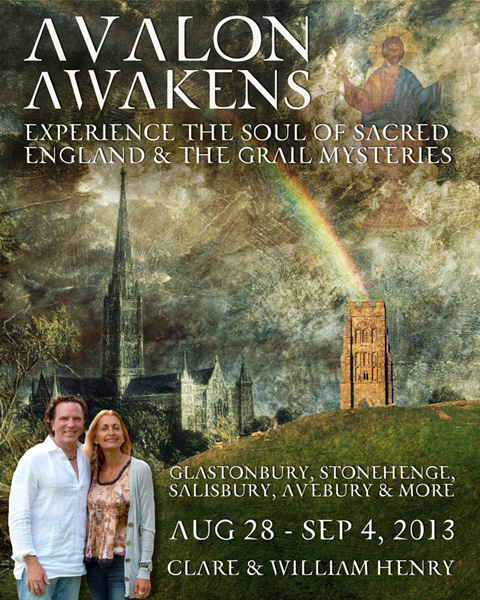 DOORWAYS INTO OTHER DIMENSIONS:
A Phenomenal Sacred Journey To The Portals of Southern France
Sept 25 - Oct 4, 2013
FRANCE
Clare and William Henry invite you to experience the deepest of mysteries, touch the most sacred ground and renew your spirit in mystic France.
In his books Blue Apples: Stargate Secrets of Jesus and Mary Magdalene and The Crystal Halls of Christ's Court William Henry took you deep into the mysteries of original religion of Jesus and Mary Magdalene as revealed by the Cathars and the mysteries of Rennes-le-Chateau, France. These teachings focused on the perfection or ascension of the human body in preparation for entering the door or portal to the crystal halls of Christ's Court. Now spend nine incredible days immersed in the mystery and energy of this land of secrets and its portals.
This journey/pilgrimage will include guided meditations, presentations by William Henry and special guest speakers, as well as other Grail luminaries, and healing ceremonies at mystical sites associated with Mary Magdalene, the Divine Feminine, the Cathars and personal and private time to integrate the powerful energies of the Languedoc region. Rennes-le-Chateau and its surroundings is a swirling vortex of alchemy, mythology, gnosticism, symbolism, hermeticism, biblical mysteries, Jules Verne, and the Merovingians. Find out more...