I ran into my friend, Ernest, the other day. I hadn't seen him for a while. "Hey," I said, "let's grab a cup of coffee." He said he couldn't. He was on his way to the Obama campaign office here in Nashville to make some calls.
"You mean Barackhenaton?" I said.
The words lit up his face in a moment of instant recognition.
"What did you say?" Asked Ernest.
"Barackhenaton." I repeated. "Have you noticed the Barack Obama looks a lot like Akhenaton? The folks at Fox News are always saying he's Moses or the Messiah or something, why not Akhenaton, Egypt's greatest mystic king?"
"Send me some photos," said Ernest.
Ernest plied his Photoshop skills and came up with something kinda funny, but also kinda cool.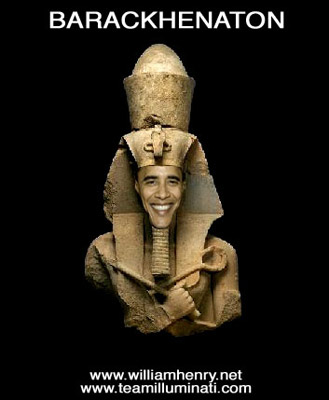 Fast forward a week or so. Obama and John McCain rolled into Nashville for their debate at Belmont University. I live about 100 yards from Curb Auditorium where the debate was held. By Tuesday afternoon (debate day) my neighborhood had been invaded by thousands of political-types.
I spent most of the day /out among the sea of people who gathered around the university for the debate. What a circus! Come debate time I high-tailed it home, grabbed one of my Les Pauls and sat down to dive for tones during the debate.
When John McCain pointed to Obama and said "That One" during the debate – sending a karate chop at his opponent who had voted for an energy bill - I had to put my guitar down.
I picked up my cat Boo and said, "Tell me he didn't just call Barackhenaton 'That One' (or 'Th-At-one' or 'Th-Atone'), because 'The Aton' or 'The Atone' is the name of the God worshipped by Ackhenaton."
McCain supporters deny he meant anything in particular by the stinging remark. Obama supporters claim a racist tone in the dehumanizing term. Apparently, to McCain, Obama is not a person, he's a thing.
I think McCain was psychically picking up on the whole Barackhenaton vibe. "That One", "Th-At-One" or "Th-Atone".
Andrew Sullivan from The Atlantic came up with a clever new slogan for Obama. It works for Barackhenaton, too.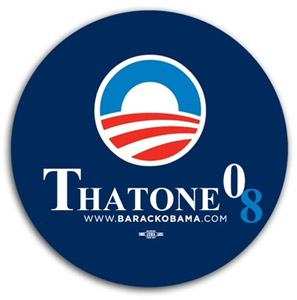 Something tells me there's going to be more entries in the story of Barackhenaton.